JDCHS claims state baseball title
Friday, May. 20, 2022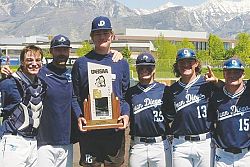 Courtesy photo/JDCHS
+ Enlarge
DRAPER — Juan Diego Catholic High School baseball took home a 3A state trophy May 14 after routing American Leadership Academy 8-1 at Utah Valley University in the championship game. It's the first time since 2011 that the Soaring Eagle has claimed the title.
At the end of the season, the seventh seed Juan Diego team took first in region, finishing 7-1, and completing the season at 16-12 overall.
In the May 7 state play-in game at Canyon View, Juan Diego CHS beat Richfield 19-9, then bested Canyon View on its home field 22-21. The Soaring Eagle went on to defeat third seed American Leadership Academy 8-4 in the quarterfinals May 12 at Utah Valley University. The following day, Juan Diego CHS beat Carbon 14-6 in the semifinal game, , also at UVU.
In the May 14 championship game, again playing American Leadership Academy at UVU, Juan Diego starting pitcher Sam Silversmith, a senior, led his team to victory.
"He was great," coach Taylor Berg said of Silversmith. "He got the first three hitters out, went three up and three down. He set the tone; we scored one that first inning, and then we scored six out of seven innings and kept chipping away. Sam really set the tone, giving us a shot on the mound. I think he ended with 11 strikeouts, no walks; only gave up three hits. So, he was just really sharp, very poised and I think we fed off that. Our confidence continued to grow knowing we had a good pitcher on the mound, especially a senior like Sam."
In the state tournament, sophomore Andrew Lombana was the big surprise for the Soaring Eagle, Berg said. "He went four for four in the championship game, with a homer, a triple, a couple of singles and ended up hitting five home runs in the five playoff games that we played."
Team captain Tyler Easter caught every game except one all year. "He called pitches, and he's a big part of Sam's success on the mound and all our pitchers," Berg said. "He's also our three-hole hitter; he definitely played a big part as well."
While the Soaring Eagle had a solid year last year, it did not have a breakout season. "It more set the stage" after a year of Covid for the stellar performance they exhibited the second half of the season this year, Berg said. He praised the determination and dedication of his whole team who this year battled back from a mid-season slump where they lost seven games in a row.
"We just had the confidence this year and knew we had the ability, and it just kind of took us a minute to put it together but once we did, we think we felt like no one could beat us," he said. "We had a really good play off and felt like it all came together at the right time."
Berg is optimistic about the future of the program.
"We have about half of our starting lineup coming back and definitely some contributors on the mound, on the lineup so we feel really good about where we're going moving forward," he said. "We don't feel like it was just a 'one and done' kind of thing; we feel like we can be competitive year in and year out."