J.E. Cosgriff community dedicates library to the school's founding librarian, Linda Paoletti
Friday, Sep. 23, 2022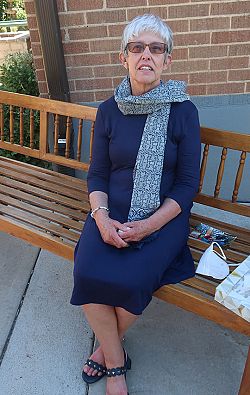 IC photo/Linda Petersen
+ Enlarge
SALT LAKE CITY —Faculty, former students and friends of J.E. Cosgriff Memorial Catholic School returned to the school on a beautiful fall afternoon to recognize a much-loved former colleague. Linda Paoletti, the school's founding librarian, spent 30 years nurturing and growing the library as she fostered a love of reading in thousands of children before she retired in 2012. On Sept. 18, the school library was named in her honor.
Planning for the event began almost 18 months ago, after as Principal Lisa Romero toured the library with a new librarian. Intrinsic to a retelling of the library history was Paoletti's significant contribution to the establishment and growth of the facility over many years, Romero said.
"I stopped and I said, 'Why isn't the library named the Linda Paoletti Library?' It just made sense," Romero said, describing how the idea came about.
"It took a while to get everything going, but as soon as other people got wind of it, they just made things happen," Romero said at the Sept. 18 dedication ceremony. "We just wanted to honor Linda, who gave so much to the school. Today is just a day about her."
During the event, former Cosgriff principal Betsy Hunt and colleague CeCe Holt shared memories of serving with Paoletti at the school.
"I had the privilege of working alongside Linda for a number of years, and my own children were blessed to be in Mrs. Paoletti's library class," Romero said as she introduced the speakers. "However, many of you have much longer and richer relationships with Linda."
Holt first met Paoletti in 1983 when she volunteered to help in the library after her oldest daughter started kindergarten at Cosgriff.
"As I left, I thought to myself, 'Boy, I would sure like to be a friend of Linda Paoletti's,'" Holt said. "Today that's one of my greatest blessings — having Linda as a friend for more than 40 years. You can't walk into the library without thinking of Linda and visualizing her there, her years of being there, always present with a smile. How fitting that henceforth this library will be the Linda Paoletti Library."
A metal plaque with the words 'Linda Paoletti Library' will be hung outside the library; a tribute to Paoletti's dedication will be displayed inside the library. The tribute says in part, "Monsignor John Hedderman [who from 1980 to 2003 was pastor of St. Ambrose Parish, which includes the school] may have provided the bricks and mortar, but Linda Paoletti built the library and served as its first librarian."
Hunt, who shared highlights from the tribute with those who attended the celebration, also said, "As a parent in this school I used to see Linda here when we'd come for games; she was here all the time. When we worked together in the school, she was here at night and on the weekends. She put in countless hours."
Addressing Paoletti, Hunt said, "Linda, everyone here and for generations to come will always be so grateful."
In her own remarks, Paoletti commended others for their efforts in building the library. "This was always a community effort; it was not just me," she said. "It was all of the administrators and the teachers and the staff and the wonderful parents and the wonderful kids who spent their time and worked so hard."
She also expressed appreciation for The King's English Bookshop, which sponsored book fairs and reading events, along with colleagues, friends, school parents and her family who supported her.
Father Erik Richtsteig, pastor of St. Ambrose Parish, offered the opening prayer and the closing blessing for the afternoon's event.