Jerry Kladis
Friday, Apr. 13, 2012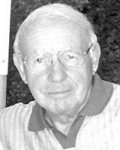 Intermountain Catholic
+ Enlarge
SALT LAKE CITY — Jerry Kladis, 87, passed away on April 5, 2012.
Kladis was born on June 6, 1924 in Salt Lake City to Nick and Yerda Hagblom-Kladis. He joined the U.S. Navy at the age of 17 and served aboard the USS Boise for four years in the Pacific and European theaters. He married Emily Boyer in April 1953.
Kladis is survived by brothers Mike (Ruby), Nick, and Gus (Karen) Kladis; sisters Katie Hudson and Irene (Bob) Bergendorf and many nieces and nephews.
He was preceded in death by his wife, parents and sisters Mary and Helen.
A funeral Mass was celebrated at Saint Ann Catholic Church.