Jesse Romero to speak at St. Francis Xavier Parish
Friday, Mar. 08, 2019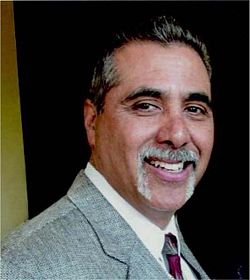 Courtesy photo
+ Enlarge
KEARNS — The Knights of Columbus Bishop Hunt Council 5214 at St. Francis Xavier Catholic Church has invited Jesse Romero to present four talks at the parish.
Romero cohosts two Catholic radio programs: "The Terry and Jesse Show" with Terry Barber and "The Jesus 911 Radio Show" with Eddie Chavez and Rube Nava in English; he also hosts a program on En Familia Radio in Spanish. His preaching apostolate is "On Fire Evangelization."
A bilingual author and speaker, he holds a master's degree in Catholic theology from Franciscan University in Steubenville, Ohio. He is the recipient of the Archbishop Fulton J. Sheen award, the Fullness of Truth's Defender of Faith award and the Sports Faith International award. Romero has been doing presentations and preaching since 1995. His motto is "Love God, Save Souls, & Slay Error!"
While in Kearns on April 13, Romero will offer two talks in English and two in Spanish. The topics are the same: "How to Get to Heaven for Dummies!" and "The Power of Prayer."
The first topic will focus on "how to live in intimate relationship with God. This keeps us protected from the devil and guarantees we get to heaven and be holy," said Chad Vargo, a member of the Bishop Hunt Council and one of the organizers of the event.
During Romero's second presentation, people will learn about different forms of prayer, and "we will also learn the three ways God answers our prayers," Vargo said.
This is the second year that the Knights of Columbus have had this type of event at Saint Francis Xavier Parish.
"Last year, we invited Jesse's partner Terry Barber. We had such a great turnout that we decided to reach out to Jesse, and invited him to our parish," Vargo said.
This year the Knights wanted to reach the Spanish-speaking community, too. As a result, Romero will present in both Spanish and English.
The purpose of the event is to give back to the community, Vargo said, so ticket proceeds will be donated.
"We do not keep any profits made from this event," he said. "This year we are donating to three great causes: our Carmelite sisters, the Dominican order, and to our parish's bathroom project."
The recommended age for the audience for Romero's talks is 14 and older.
"We really want to recharge our faith – get families more involved, and make all of us better Catholics," Vargo said.
WHAT: Jesse Romero Presentations
WHEN: Saturday, April 13, English presentations 2-4:15 p.m.; Spanish presentations 10 a.m.- 12:15 p.m.
WHERE: St. Francis Xavier Parish, 4501 West 5215 South, Kearns
COST: $15 p/p or $50/family of four; includes light snacks.
Tickets available in advance at Squareup.com/store/knights-of-columbus-council-5214 or at the door.