Jon Leonetti, Catholic radio host, to speak in Salt Lake City
Friday, Oct. 11, 2019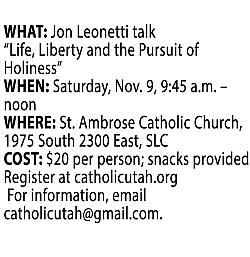 Photo 1 of 2
SALT LAKE CITY — Nationally known Catholic author, speaker and radio show host Jon Leonetti will speak to Utah audiences Friday, Nov. 8 and Saturday, Nov. 9. Leonetti grew up attending Catholic schools and spent three and a half years in the seminary before discerning that God wanted him to serve elsewhere.
"I knew the Lord was still calling me," he said. "This was always something on my heart, to be able to go out and speak and give missions."
With a master's degree in moral theology, Leonetti works as a radio host for Iowa Catholic Radio and as a speaker to Catholic audiences. He has written three books: "Mission of The Family," "Your God Is Too Boring" and "The Art of Getting Over Yourself: And Why You'll Be Happier When You Do."
Leonetti, whose wife, Teresa, is originally from Salt Lake City, said they visit family in Utah often. The couple has three children: Joseph, Gianna and Anthony. The family lives in Des Moines, Iowa.
Catholic Utah previously brought Leonetti to Utah in May to speak at a Theology Uncorked event.
"We enjoyed his talk immensely and received extremely positive feedback from those who attended, so we invited him back for more people to have the chance to hear such a gifted and inspiring Catholic speaker," Elaina Yenchek, Catholic Utah co-founder, said.
"Jon has a gift for presenting the Catholic faith in a very non-threatening, humorous and inspirational way," she said. "He teaches the faith in an engaging way that reaches everyone, wherever they are in their faith journey. I think he does an excellent job of reminding people, first and foremost, about God's unconditional love for us, which sparks a desire to challenge ourselves to do more to show our love for God in return."
Leonetti will present to local Catholics in their 20s to 50s as part of a Catholic Utah Theology Uncorked event on Friday, Nov. 8. Leonetti said he will speak of the challenges facing that demographic and the importance of staying close to God in their lives.
"Life gets pretty hectic and busy especially when you're in your 30s, 40s and 50s," he said. "Things don't really slow down; they just continue to speed up, but if we are not tuned toward what is most important in our lives, which is our relationship with God in prayer and living that life, then we're too busy. As Catholics, success is not the aim for us; it can't be. What we need is faithfulness; in the end, success means nothing."
On Nov. 9 Leonetti will speak on "Life, Liberty and the Pursuit of Holiness" in a two-part talk at St. Ambrose Catholic Church. Within that context he will talk about eternal life, liberty in the Catholic sense and the true freedom of living a holy life.
"'Freedom consists not in doing what we like, but in having the right to do what we ought,'" he said, quoting Saint Paul II. "True freedom can only be found in having the right to do what we are, which means you and I are free when we choose and live what is good, what is holy, what is virtuous. Holiness is that freedom that every single one of us is looking for."
Catholic Utah was formed last year to provide events and activities for Catholic adults in their mid-20s to mid-50s, who organizers felt were underrepresented in ministries of the Catholic Church in the state.
"We believe our speaking events can help to teach people the beauty of our faith, challenge them to grow stronger in their devotion, and also help them connect with others who are seeking the truth," Yenchek said. "It is not an easy time to be Catholic, and it has probably never been an easy time to be Catholic in Utah, but sometimes realizing you are not alone can help make the journey easier."
Catholic Utah plans to host three to four Theology Uncorked events and two larger events every year.