Joseph Morelli memorial scholarship helps college students with learning challenges
Friday, Dec. 01, 2017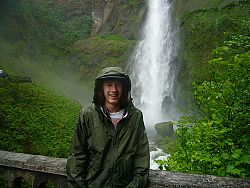 Courtesy photo/Barbara Wirostko Morelli
+ Enlarge
PARK CITY — Joseph Morelli was a young man who was always up for a challenge. An avid outdoorsman, he loved skiing, dirt biking, camping, hiking and surfing. A musician, Morelli taught himself the guitar. He was good at all of it. In many ways, it seemed there was nothing he couldn't do. Yet there was a time when dyslexia seemed to be beating him.
While Joseph was always very bright, he was a very slow reader with grades "all over the place," said his mother, Barbara Wirostko Morelli. It was only in ninth grade when he started failing math (with a multitude of word problems) that his parents knew for certain there was a problem. They had to fight the New York school system to get Joseph tested because school officials said it was impossible their son could have had dyslexia that had gone undiagnosed for so long, she said.
Once testing showed that Joseph was dyslexic, the Morellis had to hire lawyers to get him the resources he needed at school, Barbara Morelli said. Within months, Joseph began to excel academically; it took a while longer for other wounds to heal, she said.
"For so long, he didn't know why he was failing at school. He was anxious and depressed," Barbara Morelli said. "Two years later, he came into his own and developed all this self-confidence."
After the family moved to Park City in 2010, they became active in St. Mary of the Assumption Parish, where Barbara Morelli taught catechism for four years.
By the time Joseph graduated from Park City High School in 2012, he had received an award for his ACT science and math scores and had a Western Undergrad Exchange scholarship to Montana State University. He was pursuing a degree in mechanical engineering and had even been named to the Dean's List when he was killed in a car accident in September 2014, not long after his 20th birthday.
As they planned his funeral, his mother knew friends and family members would want to express their sympathy in some tangible way – in all likelihood with flowers that would cost hundreds, even thousands of dollars. But she knew her son, who embraced a simple, sustainable way of life, would have deplored the waste. So the family instead asked people to donate to a scholarship in his name.
Shortly after, with those funds and more from Barbara and Joseph Morelli, the Joseph James Morelli Scholarship Fund was organized under the Park City Community Foundation.
In the three years since, the scholarship has grown exponentially. To date, the fund has granted almost $50,000 to help 31 students who struggle with learning to pursue careers in science, technology, engineering and math. During PCCF's Nov. 10 Day of Giving, 281 people donated $33,440 to the scholarship fund, making it the ninth-highest for donations received among the almost 100 causes the foundation represents.
"I'm so overwhelmed," Barbara Morelli said. "It was such an emotional day. On the one hand, I'm so happy the scholarship is doing good, that people are willing to donate to such a good cause, but of course, it's painful why it exists. I can't begin to thank all the donors."
In the past, the fund has granted scholarships to recipients dealing with all kinds of learning challenges, but with 350 applications last year alone, the scholarship committee has decided to focus on providing support to young people with dyslexia, dysgraphia (writing difficulty), and dyscalculia (difficulty with math).
While Joseph's parents, Barbara and Joseph Morelli senior, were the initial donors and still donate today, the pool has grown to many more contributors.
It's very emotional, very fulfilling," Barbara Morelli said of working with the scholarship fund. "I find it incredible that these students identify with his story three years after his death, that his story has such an impact on others."
In many ways, the scholarship may be Joseph Morelli's greatest legacy. Always empathetic, he would from time to time, speaking of those who were down on their luck or going through a hard time, tell her, "Mom, that could have been me," Barbara Morelli said.
While the scholarship recipients appreciate the financial help, Barbara Morelli said the thing students mention the most as the greater gift is the knowledge that someone believes in them and has faith that they can succeed.
For information about the Joseph James Morelli Scholarship Fund, visit http://parkcitycf.org/morelli/.