Juan Diego CHS makes Strides during Senior Service Week
Friday, Jan. 28, 2022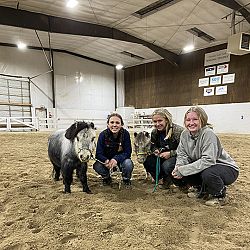 Courtesy photo/Juan Diego CHS
+ Enlarge
April van der Sluys
DRAPER — This year as in the past six, Juan Diego Catholic High School seniors did not immediately return to school after Christmas break, but rather went out among 26 non-profit service agencies across the Wasatch Front, where they spent a full 40-hour week volunteering.
The JDCHS Senior Service Week was recognized as Best Special Interest Education Program at the Best of State awards in 2020.
"Juan Diego was incredibly grateful to partner with many agencies across the Salt Lake Valley," said Michelle Moynihan, coordinator of Social Justice and Christian Service Projects and a JDCHS alumna (Class of 2013). "Despite complications due to Covid, our students were generous in the giving of their time and talents. They served with their whole hearts. I was so grateful to see our motto 'Spiritus Donorum' come alive in such a real way through our students, agencies, and the people we served."
Although many of the nonprofit partners return year after year, one of the agencies new to the program was Strides Pediatric Therapy, located in Eagle Mountain. Strides Pediatric Therapy is an outpatient therapy clinic offering physical therapy, occupational therapy, speech therapy, mental health therapy, recreational therapy and adaptive riding to children ages birth-21 with a variety of disabilities and/or needs.
Strides Pediatric Therapy was co-founded by Elizabeth Lebrecht, who serves as the agency's president. Her daughters, both JDCHS alumnae, help run the nonprofit: Marley Juarez, Class of 2013, is co-founder and director of operations; and Grace Lebrecht, Class of 2017, is manager of operations. They created Strides as a way of incorporating equine therapy with both a traditional clinic and gym spaces in facilitating the healing and recovery of those they serve.
"Strides was so lucky to have four incredible seniors at our site for a senior service project," Juarez and Lebrecht said in a statement. "The seniors were positive, enthusiastic and compassionate with our kiddos and made a huge impact in the short time they were here. We still have kids asking when they're going to come back, two weeks later. As JD alumni, it was an honor to be part of such a meaningful experience, bringing our passion for our career and the kiddos we serve to the students who stand where we once stood. It makes us proud to call Juan Diego our alma mater."
Among the students who volunteered at Strides for Service Week was Juan Diego senior Ashlynn Sandberg.
"Growing up with horses and riding since the age of 5, being able to serve at Strides was a natural choice for me," Sandberg said. "I had never heard of hippotherapy, so I was intrigued by combining traditional therapies with the integration of horses. I really enjoyed helping to support the children being served by Strides as they were on horses while engaging in various therapies with their therapist."
Similarly, Juan Diego senior Grace Bathurst said that Strides was her first choice agency because she has such a great love for animals. "Being able to incorporate my love of animals while working with young children who were at Strides was a pleasant surprise," she said. "Strides normalizes disabilities and encouraged us to talk to the children about it. I love that about this agency."
April van der Sluys is the advancement coordinator for Juan Diego Catholic Schools.