Juan Diego soccer player sets state scoring record
Friday, May. 26, 2023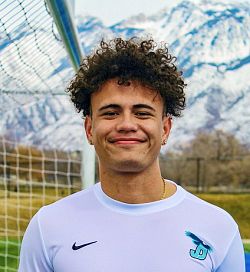 Courtesy photo
+ Enlarge
DRAPER — Hauroa Morgant seemed to come from out of nowhere to star in the 2023 Juan Diego Catholic High School boys soccer season. He might have caught some attention last year, when he scored 16 times before leaving mid-season. This year, however, he broke the state record for goals in a season and helped propel his team to the school's first state victory since 2016.
Morgant, a senior, began playing soccer in his native Tahiti when he was 4 years old. A member of the National Soccer Team of Tahiti, he also played for a club team for several years. He attended Juan Diego CHS last year as an international student, but was only able to play half the season because a family matter called him back to Tahiti.
Returning this year, Morgant was focused on having a good season, he said. It was only after one of his coaches told him he was on track to beat the state record for goals scored that he made it a focus of his play.
All of Morgant's teammates assisted him in breaking the state record, head coach Joe Baca said. "He was the goal-scoring target for us in most of our games until the opponent realized that we were going to go to him, and then we were able to use other players as well."
The state record of 43 goals in a season had stood since 2014. Morgant broke that record in the state championship quarterfinal game against Grantsville. After making the goal, his excitement got the best of him and he was issued a red card, leading to a suspension, which meant he had to sit out the semifinal game against Manti.
"It was one of those referee-decision scenarios where we have to live with the referee's feeling," Baca said.
Sitting out the Manti game was hard, "but I trust in my teammates," Morgant said. "I knew that even without me they would win."
The Soaring Eagle team did well in the semifinal game, defeating the Templars 2-0 to advance to the state finals. In the championship game against Morgan, Morgant scored the only goal off a free kick and led his team to victory.
"I just took the shot, and it went right over there at the 30-yard line, and it went in," he said.
Following that free kick, the Soaring Eagle kept the Trojans from scoring and at the end of the game, the victory belonged to Juan Diego.
In addition to his prowess on the field, Morgant is a great kid, Baca said. "He's humble, he's coachable; he doesn't only listen to the coaches, he also listens to his teammates, the people behind him, and he makes the adjustments," the coach said. "He was destined for the success because he was so open to being given direction."
Morgant was the team captain; although he had not thrown his name in the ring for the position, his 32 fellow players unanimously voted for him anyway, Baca said. "I can understand why they wanted him because he is a very positive person and he's always making sure that his teammates know that he is there and that he loves them. In return he got that kind of love. They would always be looking for him on the field and giving him guidance."
Off the field, Morgant is welcoming and friendly to everyone, Baca added.
In addition to breaking the state scoring record, Morgant was named the Gatorade Boys Soccer Player of the Year. After graduation, he hopes to be able to play soccer for Salt Lake Community College and to study business there.