Juan Diego students show their community spirit
Friday, May. 11, 2012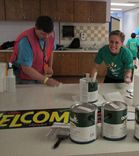 Susie Rose
Photo 1 of 2
DRAPER — Juan Diego Catholic High School students rose early on a Saturday morning to contribute to the community. They participated in Comcast Cares Days – a service project held April 21. Forty Soaring Eagle students joined Comcast employees to help paint, clean and maintain Meadowlark Elementary in the Rose Park/Glendale area. Meadowlark is a Title I elementary school; the majority of its students live at or below the poverty level.
"I was impressed by the positive attitudes and the willingness to give back," said Sara Richardson, Comcast customer service manager. "They worked for several hours painting classrooms, hallways and leading cleaning teams for the halls and 16 classrooms. They even cleaned the blinds and washed windows!"
Juan Diego CHS requires students to volunteer in the community, and collaborative projects such as Comcast Cares Days make service fun. Nearly all of the students who participated in the day admitted they had already completed their school's service hour requirement, but wanted to come out and help the community. They themselves have benefited from a beautifully maintained school that was contributed by the L. Sam Skaggs family in 1999, so Juan Diego students felt compelled to make Meadowlark Elementary better for less fortunate children.
"It's evident that these students live up to their motto, 'Spiritus Donorum,'" Richardson said.
Story courtesy of Juan Diego Catholic High School