Judge Memorial dedicates Coach Yerkovich gymnasium
Friday, Dec. 15, 2017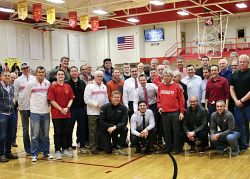 Courtesy photo/Judge Memorial CHS
+ Enlarge
By Stan Finn
Special to the Intermountain Catholic
SALT LAKE CITY On Dec. 8, Judge Memorial Catholic High School's gymnasium was officially named the Coach Yerkovich Gymnasium.
When Jim Yerkovich, JMCHS Class of '61, came to Judge as a freshman, the gymnasium was only three years old. As you will read below, it seems only fitting that 60 years later, it be named in his honor.
By the time Jim Yerkovich retired in 2010 as head basketball coach of Judge Memorial, his career record was staggering, including 635 wins (the most by one coach with a single school) three state championships, six second-place trophies, 18 region titles and a 48-2 region record his last four years helming the Bulldogs. Also, 50 of his players went on to play college basketball. But, as with all statistics, they don't tell the full story.
Born in Salt Lake City, Jim moved with his family to Rock Springs, Wyo., where his father was a machinist for Union Pacific Railroad. The family moved back to Salt Lake when Jim was a freshman in high school.
During his high school years at Judge Memorial, Jim played baseball, basketball, football (quarterback his senior year) and track, where he was the region champion in the 100 and 220-yard dashes. But basketball was his true love, so winning the 1961 region championship his senior year was the perfect graduation present.
He went on to attend the University of San Francisco, which at that time was a college powerhouse thanks to future Hall of Famers Bill Russell and KC Jones. As a 5'9" point guard, Jim felt he needed to build up his body and started working out in the weight room, but a mishap left him with an injured back and unable to play. To keep his scholarship, his coach had him become manager of the team and coach the freshman team.
After graduating from USF in 1965, Jim returned to Salt Lake and was hired at his alma mater as a math teacher and assistant coach in several sports. When Frank Klekas stepped down as head coach of the basketball team, Jim assumed the reins. During his first year, the team made the state quarterfinals with players such as Pat Kelly and his late brother Neil, both Class of '68.
The next season, when the team went 2-16, "was my biggest disappointment as a coach," Jim said. "I felt I had blown it as a coach. But the following season we were right back in the playoffs and I knew I had found my place."
Jim feels his biggest accomplishment at Judge came in 1978, when their competition was the large schools in the state, "but we hadn't broken through as a team," he said. "That's when I came up with the WE philosophy." The WE philosophy is simply WE together can succeed, WE together can accomplish our goals, WE together can win.
Jim began speaking about this philosophy at various coaching clinics around the country, and caught the eye of Morgan Wooten, head coach of national powerhouse DeMatha High School in Washington, D.C., who told Jim that if the Bulldogs ever won a state title, he would sponsor the team to enter the Alhambra Catholic Invitational Tournament in Maryland.
That chance came in 1980, when the Bulldogs won the Utah State basketball championship behind the play of seniors Aaron McCarthy, Joel Rotta and Charlie Colosimo. Judge Memorial was invited to the ACIT in Maryland, which at that time, was the top tournament in the country.
Soon, Jim found himself coaching in the McDonald's All Star game, facing a young man named Michael Jordan. "We held him under 30 points," Jim laughs.
The 1980s found the Bulldogs playing in several state finals and the finals of the ACIT against nationally ranked Roman Catholic High of Philadelphia, Pa.
In 2006 and 2008, Judge won two more state titles and Jim published his WE philosophy in book form, which it is now used in over 800 schools across the country. Jim retired in 2010 and he and his wife Betty now reside in Liberty Bay, Wash.
"I've been blessed to work with great assistants such as Sonny Tangaro '63, Marty Giovacchini '73, Dan Del Porto '85 and Tom Bettin '67, and the players whom I was allowed to coach are always in my thoughts," Jim said. "To have the gym named in my honor is a tremendous gesture and I wish to thank the Judge community for making it possible. My heart is always with Judge and I am truly humbled by this."
Stan Finn has been a member of the staff and a coach at Judge Memorial Catholic High School since 1980.