Kenneth G. Larsen
Friday, May. 20, 2022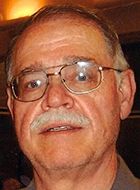 Courtesy photo
+ Enlarge
July 7, 1948 ~ May 8, 2022
Kenneth G. Larsen, age 73, passed away at his home in Price on May 8, 2022, after a long hard-fought battle with cancer. He was born on July 7, 1948, in Price to Alice and Archie Larsen.
Ken was a man of many skills who was an incredible craftsman who loved working with his hands and mind. There was rarely a problem he could not solve. He was a mentor to many people in his life as he was full of practical wisdom and an honest man with high integrity. He was a great example of living a simple life full of gratitude. His priority was his family, and his faithfulness and commitment never wavered.
In his younger years he was a mechanic at the Ford garage. He transitioned to the mining industry and held various positions, including teaching electrical safety. He finished his working career at Mine Hydraulics in Castle Dale, where he enjoyed working with his brother Alan for over 20 years.
He enjoyed cooking, geo-caching across the state, family camping trips, flyfishing, watching his grandchildren grow, was an avid reader and rarely passed on a good pastry. He loved to tell his children and grandchildren old family stories. He also enjoyed giving back to his church, Notre Dame de Lourdes Parish, as he held various church ministries over his lifetime. Ken was also a longstanding member of the Stella de America Italian Lodge.
He is survived by his loving wife of 53 years, Nora (Limone) Larsen; children Shelley (Mat) Heath, Price and Jeremy (Jessica) Larsen, Providence; siblings Sandra (Gary) Callor, Price and Alan (Sherri) Larsen, Price; grandchildren Ali and Hunter Heath and Ashton and Gunnar Larsen. We all love you so much, Papa.
Preceded in death by his parents, brother Dale, and numerous aunts, uncles and cousins.
A funeral Mass was celebrated May 13 at Notre Dame de Lourdes Catholic Church in Price. Interment, Central Slovenian Cemetery, Spring Glen.
In lieu of flowers please make donations to Notre Dame de Lourdes Catholic Church or St. Jude's Children's Hospital.