Knights of Columbus round up thousands of stuffed animals for children in crisis
Friday, Jul. 19, 2019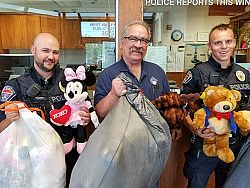 Courtesy photo/Andy Airriess
+ Enlarge
Andy Airriess
Special to the Intermountain Catholic
Over the past few months, the Utah Knights of Columbus have been collecting stuffed animals from parishes across the Salt Lake Valley and beyond. After gathering more than 3,000 stuffed bears, frogs, unicorns, dogs, cats, fish and more from generous parishioners, the Knights are distributing the contributions to police, fire and ambulance personnel as well as victim advocates. Hundreds of stuffed animals already have been given to Gold Cross Ambulance as well as police and fire departments across the Salt Lake Valley. A wider distribution is now under way.
"Children in crisis come in many forms – during domestic violence between parents, destruction of personal property during times of fire, vehicle accidents, deaths and more," said Clarence Illario, a crime prevention officer with the Draper Police Department. "Giving a child a stuffed animal gives the officers satisfaction in their jobs knowing they are able to help those who may be feeling helpless at any given moment and that they can bring relief to those in need."
Frank Carmona, Utah District Master for the 4th Degree of the Knights of Columbus, organized the collection of the stuffed animals. The 4th Degree Knights are the Patriot Degree of the Order.
"We in Utah focus on our veterans and our law enforcement and other first responders, many of whom are veterans," Carmona said. "First responders are a huge part of the Patriot Degree of the Knights of Columbus and we know that they need to be recognized for their patriotism."
He went on to say, "Many first responders show up to a home where little kids are crying and most of these brave men and women do not have the money to buy the stuffed animals to calm the kids. This was a simple but very effective program that helps our first responders and helps those they serve."
On behalf of the Knights of Columbus, Carmona extended a thank you to all who participated in the program. "It would not have been possible without your help. Just know when you see a fire truck, police car or ambulance, chances are there are stuffed animals in it, animals donated by our generous parishioners. God bless you all and God bless America!"
Andy Airriess is the Immediate Past State Deputy of the Utah State Council of the Knights of Columbus.