Ladies of Charity food pantry supports the community
Friday, Sep. 16, 2022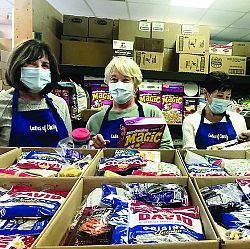 Courtesy photo/ The Center of Hope
+ Enlarge
NORTH LAKE — Serving 500 to 600 individuals a month, The Center of Hope, a food pantry located on Center Street in North Salt Lake, has for almost 20 years been supporting people who have fallen into hardship. The center provides basic necessities such as food free of charge.
The Center of Hope, which began operating in 2003, is important because "we started to see so many people didn't have a place to go to get the assistance that they needed," said Mary Ellen Dworshak, one of the Ladies of Charity in charge of the food pantry, about the importance of The Center of Hope.
Originally, the center started as a temporary food pantry in the driveway of the Daughters of Charity's residence, but in 2010 it moved to its current facility, and earlier this year expanded into an adjacent office.
The Daughters of Charity of St. Vincent de Paul have ministered in the Diocese of Salt Lake City since 1920. The Ladies of Charity, a lay outreach ministry moderated by the Daughters of Charity, was established in 2003 in Bountiful. They also have a group in Salt Lake City.
When the group was formed in Bountiful, its members realized that in their community "there is a lot of wealth and there is a lot of poverty. … We wanted to address the need," Dworshak said.
The Ladies of Charity were approached by people who said that when they went to other food pantries, they didn't feel respected or valued, which the group took into consideration when they began planning their facility.
"We wanted a place that welcomed everyone in the community, where everyone felt respected," Dworshak said. "People are always commenting how coming here is … a good experience for all."
The Center of Hope now provides food for about 45 families each week, supplied by donations from various organizations, local businesses and individual donors.
For example, "the LDS Church helps us with fresh food, Costco gives us anything extra that they have, like bread, pastries, sometimes even meat … so people that come to the pantry, besides receiving canned or non-perishable food, they also get fresh food," Dworshak said.
Falling on hard times can happen to anyone, and people's circumstances can change, Dworshak said. In addition, those who receive help often reciprocate when they are able.
For example, during the pandemic the food pantry provided boxes of food to their patrons, and "so many of them, after sorting out what they really needed, returned some items to be used by others," Dworshak recalled. "That just warmed our hearts."
In addition, "we had a very large donation to the food pantry made by a former patron of the food pantry. They simply wanted to give back part some portion of what they have received when they were in need," she said.
The Center of Hope Food Pantry is under the direction of Sister Germaine Sarrazin, D.C., but "as Sr. Sarrazin gets older and older, the time that the Daughters of Charity might not be a sponsor for the food pantry might come," Dworshak said.
Because of this, the Ladies of Charity are trying to find additional ways to keep The Center of Hope's doors open. For example, in July they added a thrift store component next to the food pantry "as a new way of being self-sustainable," Dworshak said.
All the proceeds from the thrift shop also support The Center of Hope.
As divisive as the world is right now, "I think it is important to show our compassion and our unity; we need to unify and help each other," Dworshak said. "We only grow when we help each other."
The Center of Hope is located at 74 S. Orchard Drive, North Salt Lake. It is open 6-7 p.m. every Monday; 3-6 p.m. on Tuesdays and on Saturdays from 10 a.m. to 1 p.m.
Donations to the Center of Hope Food Pantry can be made at https://www.ladiesofcharitynorthernutah.org/ or mailed to 966 Fox Hill Rd, North Salt Lake, UT 84054.