Ladies of Charity provide food, gifts for the poor
Friday, Dec. 25, 2009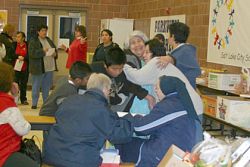 IC photos by Christine Young
+ Enlarge
BOUNTIFUL - "The Ladies of Charity (LOC) bought hats, socks, gloves and an age appropriate toy for 230 children this year, and gave gift cards to 85 families," said Sue Mathiesen, LOC secretary, who helped head the Christmas program. The Ladies of Charity was established in 2003 by Daughter of Charity Sister Charlotte Marie Clark, who is now in Los Altos, Calif.
The Ladies of Charity's mission is to provide supplemental food boxes to 85 families each month as well as visit the sick and home bound. They also collect and distribute clothing, furniture and household items to those in need. There are two chapters of Ladies of Charity. Chapter I is at Saint Olaf Parish in Bountiful and Chapter II is at Our Lady of Lourdes Parish in Salt Lake City.
"Without the LOC and the good-hearted people of Saint Olaf and Our Lady of Lourdes parishes, I don't think those in need would have a Christmas," said Midge Gourde, St. Olaf LOC president.
The families all received a gift card, a food box, a bag of produce, a turkey and toys for the children. Mother's baskets containing $25 worth of soap, shampoo, lotion, a towel and other items with which a woman could pamper herself were also distributed.
The mother's baskets were donated by the Centerville Humanitarian Service Room, a Latter-day Saints outreach group headed by Alisa and Bennett Peterson.
Knowing of the work the LOC does for the poor, the Bennetts contacted Daughter of Charity Sister Germaine Sarrazin, LOC sister moderator. "They also gave us toys, blankets and baby supplies. The blankets and baby supplies were all handmade and gorgeous," said Sr. Germaine.
Tyler Ham, a junior at Judge Memorial Catholic High School who helped the families out to their cars with their food and gifts, said, "Helping these families gives me a good feeling, especially when I know they may not have a Christmas without the Ladies of Charity."
"It is really a nice feeling to help these people out to their cars with all their Christmas goods," said Kris Lutz, an eighth-grade student from Our Lady of Lourdes School. "These families are feeling happy to receive these gifts."
The St. Olaf LOC started working on the Christmas program in October when they sent out a wish list to all the families, then made a giving tree for the LOC members. "The women selected name tags and provided the gifts," said Sue Mathiesen, St. Olaf LOC secretary. "Some of the gifts were purchased with LOC funds. Then we got together to wrap the gifts, and it all came together with the help of a lot of angels."
"The presents the Our Lady of Lourdes LOC provided were wrapped Dec. 6," said Jackie Harover, Our Lady of Lourdes past president. "It was quite a scene to see toys for 91 children spread out all over. The parishioners at Our Lady of Lourdes helped us purchase the gifts. The kids really were excited to help."
The St. Olaf Ladies of Charity hosts a barbecue in July and a bake sale just before Thanksgiving to raise funds for Christmas. They also have generous donors who help them offer a good Christmas to the families.
"We are few in numbers, but we accomplish a lot. We are charity in action because we are a hands-on organization," said Gourde. "We could not have done all this and all we do without the help of our Gentlemen of Charity, who help us physically load and unload boxes of food when it is delivered to our Center of Hope in North Salt Lake and when we deliver food boxes to families at the school we help. We live the Vincentian way of life as was taught by our founders Saint Vincent de Paul and Saint Louise de Marillac, who saw Christ in the poor."