Lay Dominicans share in the Order of Preachers' mission
Friday, Apr. 10, 2015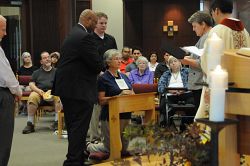 Intermountain Catholic
+ Enlarge
SALT LAKE CITY — Lay Dominicans have been an intrinsic part of the Order of Preachers since it was founded by Saint Dominic Guzman in 1217.
In whatever lifestyle, married or single, lay men and women commit to the Dominican's four pillars: apostolic works, community life, prayer and study.
The lay Dominicans were sanctioned as a chapter at Saint Catherine of Siena Newman Center in Salt Lake City in 1995. To join the lay Dominicans, a person must be at least 18, be a practicing Catholic for at least a year and cannot be consecrated to another order.
Those interested in joining the lay order spend the first two years attending chapter meetings, learning the four pillars, the Beatitudes and Catholic social justice, and discerning whether they have a call to the order, said Paul White, the parish's lay Dominican moderator.
After the third year, a person can make a temporary profession, and has up to six years to commit to a life profession.
"We try to pray the rosary daily because our Blessed Mother appeared to St. Dominic and taught him the rosary to spread throughout the world," said White, a professor at the University of Utah. "We are to attend daily Mass if possible, pray the Liturgy of the Hours in the morning and evening, and midday prayers, if possible; abstain from meat on Friday year-round; observe the Sacrament of Reconciliation and the feast days of St. Dominic on Aug. 8, Saint Mary Magdalene on July 22 and Saint Catherine of Siena (a lay Dominican) on April 29, as well as other Dominican feast days."
Lay Dominicans live their lives as those who have taken vows in the Dominican Order, said White, who once considered the priesthood. "We are prayerful in our lives and allow that to guide us in our work, families and with our friends," he said.
St. Dominic wanted people to understand Scripture, the writings of the early Church leaders and the world; "study helps in our spirituality and prayer life, and education is a part of that," White said.
In community, "we come together for monthly meetings, prayer and discussions on books or other topics," he added. "We do apostolic works in how we live our lives, in the workplace, in ministry at parishes, or for example, assisting at schools in children's reading groups."
The pillars are all interconnected, White said. "My prayer life helps my study, which helps my apostolic works and that puts me in the community, which helps my prayer life."
White joined the lay Dominicans in 1995 after witnessing a person making life professions, and he was moved to tears. He also heard a Dominican priest give a homily on "being apprehensive about the future," he said; he made his life profession in 2006.
For Dr. Gary Topping, becoming a lay Dominican was a way to deepen his faith.
"I'm a studious person and I read all the time, so study was something I was already doing," said Topping, who is the diocesan archivist and a professor at Salt Lake Community College. "I was always dissatisfied with being a pew-warming Catholic. I like that the lay Dominicans pray the daily offices and the rosary; that brought a lot more discipline to my prayer life."
Topping, who made his life profession in 2003, also appreciates being with like-minded people in community who support each other, he said. "That is what I like about being Catholic in general; we are family," he said. "Preaching is the way we live our life and insinuate Catholic values into our conversations and actions."
Father Peter Hannah, St. Catherine of Siena associate pastor, is the chaplain for the lay Dominicans. His role is to offer them spiritual support and prayer, attend monthly chapter and council meetings and "I am there as a spiritual and theological resource for them," he said. "I offer them knowledge and what I know of the Dominican tradition, as they desire."