Learn about Benedictine way of life from oblate director
Friday, Aug. 02, 2019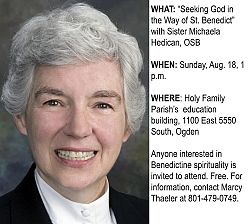 + Enlarge
OGDEN — Many people still remember the legacy of the Sisters of St. Benedict who came to Utah in 1944 and established a monastery and Saint Benedict's Hospital in Ogden in 1946.
"The sisters here in Ogden have had a great impact, particularly through their hospital ministry," said Marcy Thaeler, a member of Holy Family Parish. "So many people still talk about the sisters. When they were here, they put the majority of the profits back into the community, funding development of several social service agencies. They would always welcome everyone; hospitality is a huge part of Benedictine spirituality."
Although the sisters left Utah in 2013, returning to their mother house in St. Joseph, Minn., their influence is still being felt by a group of local oblates who meet regularly to keep the Benedictine way of life here alive. Thaeler is part of the group's leadership team.
Oblates of St. Benedict are laity, both women and men, who affiliate with a monastery or convent without actually living with the community itself, but seek to incorporate the principles of the monastic way into their daily living. They do not need to be located geographically close to a monastery. Oblates follow the Rule of St. Benedict, a 6th-century book of precepts that outlines a simple prayerful way of lives for monks.
Currently about eight oblates meet every other month on a Saturday around noon at a member's home. They share a devotion, discussion and light lunch. In addition to their regular meetings, members occasionally participate through an online meeting program with the motherhouse.
"There's a huge interest in this area in Benedictine spirituality; we want to be a resource for that interest," said Thaeler, who has been an oblate since the 1990s.
"I think Benedictine spirituality offers a lot to people in today's life; it's such a gift," she said. "Every person appreciates knowing more about it. It's very applicable to everyday life; we follow the Rule as best we can."'
On Sunday, Aug. 18, the group will host Oblate Director Sister Michaela Hedican, OSB, who will talk about the oblate way of life. Sr. Michaela was the Utah community's prioress when the sisters left Utah for Saint Benedict's Monastery in St. Joseph, Minn.
"The sisters' return to did not mean a loss of the treasured connection with the people of Utah. That connection continues to this day through the oblate way of life," she said. "This gathering will center on what the 1,500-year heritage of St. Benedict teaches us about how to seek God and live in our world today with values that are time tested and guaranteed to bring peace to the world."
Information on becoming an oblate will also be shared at the event.