Lent 2018 - Raise Up, Sacrifice and Offer
Friday, Feb. 09, 2018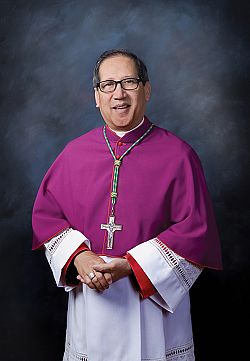 Intermountain Catholic
+ Enlarge
On Feb. 14, the Church will celebrate Ash Wednesday, ushering us into the holy season of Lent. Lent is a moment of grace to renew our baptismal promises. It is a special moment of grace that opens the door for our faith renewal and transformation of our lives through repentance and conversion of hearts as followers of Christ. We are called not just to abstain from sin, but also to achieve true conversion of our hearts and minds as followers of Christ.
During these 40 days, we unite our hearts with Christ in His passion, death and resurrection by renewing our baptismal promises. We recall the waters of our baptism in which we were baptized into Christ's death that we may rise with Him to new life.
The season expresses its penitential character in the imposition of ashes on our foreheads that reminds us of our mortality and the invitation to repentance by turning away from our sin and coming back to God with all our hearts. The Lenten discipline of immersing ourselves in prayer, fasting and good works allows us once again to focus our minds and heart on the foundation of our redemption.
The U.S. Conference of Catholic Bishops' 2018 Lenten theme – Raise Up, Sacrifice, Offer – helps guide our path to penance and reconciliation. Oftentimes, worldly concerns have caught more of our attention in life. During this holy season, let us try to divert our attention from worldly distractions and refocus our attention on Christ. It is important that we set aside some time for prayer, to be able to raise our eyes, our voices and our hearts to God and immerse ourselves in His loving and saving presence.
The present culture has tremendously affected our attitudes and dispositions. There is a strong desire for gratification, for comfort and convenience so great that we try to avoid any pain, problem or difficulties that bring us suffering. Our union with Christ includes sacrifice, the capacity to embrace our own crosses in life. The spiritual exercises and Lenten disciplines of the Church, such as fasting and abstinence, help us strengthen our Christian character to be able to turn away from sin and incline our hearts to holiness.
Pope Francis offers us suggestions to help focus on Christ and our brothers and sisters, especially those who need our attention, and offer them our care, love and compassion. He encourages us to look beyond ourselves, to go to the peripheries to feel their pain and help alleviate the suffering of those marginalized by our society. Our Holy Father suggests getting rid of the culture of indifference in order to develop more sensitivity to the plight of the poor and the needy. He reiterates that our Church is missionary by nature, so parishes should not remain enclosed but instead go out to every nation and people and establish "islands of mercy in the midst of the sea of indifference."
I wish to emphasize the communal dimension of the Lenten season, so I call on all my brother priests, deacons, women and men religious and all the faithful throughout the Diocese of Salt Lake City to join our hearts together in a spiritual Lenten journey as one faith community.
God calls us into a community to establish a relationship with Him and with one another in building His kingdom in our midst. Let us therefore strive to help create in our parish communities an environment of prayer, penance and charity, which hopefully leads us to spiritual renewal and transformation of our lives and our world.
Here are some suggestions we can incorporate in our spiritual pilgrimage to have a more meaningful observance of Lent.
PRAYER
Invite others to pray and to go to Church, and provide them with spiritual resources to learn more about our faith and way of life. Parishes can provide more opportunities for benediction and adoration of the Blessed Sacrament, the praying of the rosary, weekly Stations of the Cross and other pious devotions. Include special prayer intentions during weekend Masses for families experiencing difficulties in life, for the poor, the sick, the unemployed, the homeless and those suffering the violence of war, persecution, discrimination and devastation from natural calamities.
SACRIFICE AND WORKS OF CHARITY
Put our faith into action through preferential options for the poor and charitable deeds. Promote solidarity by teaching others about global poverty, inequality and other oppressive systems to change and protect human life and dignity. Let us challenge ourselves to become more sensitive to the needs of others and strengthen ourselves through the exercise of fasting, abstinence, good works and other sacrifices. Support and contribute to efforts to improve or better the lives of people living in poverty locally and abroad through:
*Operation Rice Bowl – an opportunity to pray with our families and faith communities, to fast in solidarity with the hungry, to learn about our global community and the challenges of poverty, to give sacrificial contributions to the needy. For information, visit crsricebowl.org.
*Holy Childhood Association – seeks to inform and empower "kids" who suffer greatly in Catholic missions throughout the world, with the hope that through the experiences of giving and compassion, they will feel the power of the Holy Spirit in their lives.
*Catholic Community Services of Utah (www.CCS.org) – Provide local assistance to the homeless, refugees, immigrants and those in need of food, housing and basic needs through your financial contributions and volunteer hours.
*Good Samaritan Ministry – Sponsor parish food drives to supply local food pantries; donate money or goods for rental assistance, blankets and sleeping bags for the homeless.
*Catholic Relief Services – In solidarity with their mission, provide donations to help attend to the emergency needs of people all over the world affected by natural calamities, those living in poverty and those who are victims of war, violence and injustice.
*Catholic Legislative Advocacy – Participate and get involved as citizens of our country to make a difference in the crafting and implementation of our laws that affect the common good, protect the sanctity of life and defend the dignity of every person – the unborn, the sick, the elderly, the hungry, immigrants and refugees.
United with you in prayer and mission, may we all have a Holy Season of Lent to receive God's grace and to celebrate the joyful blessings of Easter!
The Most Rev. Oscar A. Solis
Bishop of Salt Lake City