Lenten sacrifices remind us that we need God
Friday, Mar. 07, 2014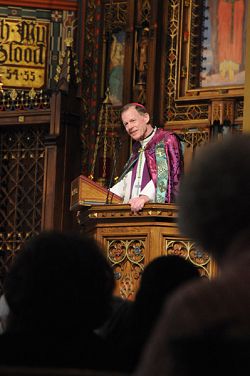 Intermountain Catholic
+ Enlarge
As we enter into the beautiful season of Lent, we usually stop and consider what to do for Lent – or, more to the point, what to "give up" for Lent. We Catholics carry deep within us a long tradition of performing acts of penance during our 40 days of preparing for Easter. Such sacrifices are rooted in our understanding of mortification, namely, dying to self so that Christ can rise within us at Easter.
But how does giving up candy prepare me for Easter? Good question! Allow me to make an attempt at an answer.
The first Easter took place around 2,000 years ago. There is nothing I can do to enhance or improve on that salvific act of love that came about when God the Father gave us his only Son, who in turn suffered, died and rose again so that we might have life eternal.
However, there is something I can do to better embrace this reality in my life, to open myself to the graces of Christ's resurrection. St. John the Baptist put it best: "I must decrease, Christ must increase." I am filled with desires, ego and ambition. There seems to be a natural tendency in all of us to put ourselves at the center of the universe.
To counter this tendency and to keep Christ at the center of my life, I engage in Lenten practices or sacrifices that remind me of my neediness, my absolute dependency on Christ. It is Christ, through whom, and for whom and in whom all things are created and are sustained in being. Lent is a time to strip everything away and get to the real essence of life, which is Christ.
So, as you and I consider what we will "give up" for Lent, take a moment and remember why we are performing our acts of penance in the first place. Our sacrifices remind us that the world does not revolve around us. They remind us that we are sinners who stand in need of God's love, a love that comes to us every moment of our lives in the person of our Lord and Savior, Jesus Christ, whose resurrection we prepare to celebrate during these 40 days of Lent.