Lifetime Achievement Award presented to Benedictine sisters
Saturday, May. 05, 2012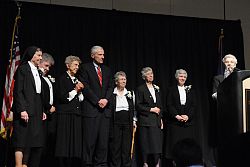 Intermountain Catholic
+ Enlarge
LAYTON — The Sisters of the Order of Saint Benedict in Ogden were among those honored at the Lieutenant Governor's 2012 Utah Volunteer Recognition & Awards Banquet, April 25 at the Davis Conference Center.
In these economic times, "There are needs that have not been addressed on a scale that boggles the mind … and so your hours, your smiles, your dollars are needed in many places," Lt. Gov. Greg Bell said to the volunteers in his remarks.
He gave special mention to the sisters, saying, "Thank you for your love and service to members of the greater Ogden [community] and the northern part of Utah."
The keynote speaker for the event was Andrew A. Valdez, a judge for the Third District Juvenile Court in Salt Lake City.
Valdez spoke of a mentor in his life who "took me off a street corner when I was 11," taught him to play tennis and encouraged him to go to college.
Volunteers are the lifeblood of the state and "make folks feel as though they matter," Valdez said. "Sometimes you change lives and maybe even save a life and the impact or results aren't apparent … until later on in life. If you make another person feel as though they matter, if you give people hope, then that is the accomplishment. You are making a difference in lives."
The event honored 11 individuals, groups and businesses.
"There are so many volunteers in our state who give extraordinary service [so] choosing the best was very difficult," said Jeanne Hall, a Utah Commission on Volunteers commissioner.
The Benedictine sisters, "who have spent their entire lives in the service of their fellow man and their community," received the "most prestigious award," the Governor's Lifetime Achievement Award, Hall said.
"These sisters are so well known for their kind service and their generous volunteering," Hall said as she introduced the sisters.
The first Benedictine sisters arrived in Ogden in 1946 to establish a hospital. Over the years, 134 sisters served in Ogden. When the hospital was sold, "these sisters chose to stay in northern Utah and we have all been blessed because of their choice," Hall said. "They give of their time, they give of their hearts and all their influence and good efforts to minister to the people around them. These sisters bless the lives of many people. They are truly symbols of compassion, of charity, of mercy, of kindness, of tenderness, to people of whatever race, creed, color, religion. They love God's children and we are blessed by them."
Through the St. Benedict's Foundation, the sisters help more than 8,000 people each year in northern Utah. Individually, the sisters volunteer hundreds of hours to organizations such as United Way of Northern Utah, Ogden Regional Medical Center, Seager Memorial Clinic and Weber Coalition for a Healthy Community, and they create items to be auctioned for fundraisers, to name just a few of their charitable works.
In accepting the award, monastery spokeswoman Sister Danile Knight said, "We would be remiss if we did not remember those 136 sisters who came here before us…. We always say we stand on the shoulders of all those strong and great women who came here in 1946 – those three sisters who got off the train and stayed here and began the love affair between Ogden and the sisters of St. Benedict. That does still continue and will continue and we will continue to give help, care for and be concerned about the spiritual welfare of all the people of northern Utah."
The banquet ended with the sisters singing their blessing song.