Local Catholics rejoice at once again gathering for Mass, receiving the Eucharist
Friday, May. 22, 2020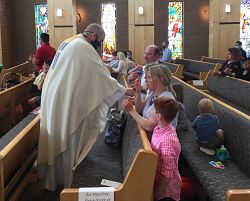 Intermountain Catholic
Photo 1 of 2
Intermountain Catholic staff
SALT LAKE CITY — Because of the social distancing requirements instituted by Governor Gary Herbert in response to the novel coronavirus pandemic, public Masses in the Diocese of Salt Lake City were cancelled beginning the weekend of March 14. For seven weeks, local Catholics were unable to enter the church to receive the Eucharist – "the source and summit of the Christian life," as the Vatican II document "Lumen Gentium" defines the sacrament.
While the church doors were closed, many Catholics made a spiritual communion by regularly watching Mass online, on the television or listening to the radio. Many local parishes livestreamed their Mass, posting the broadcast to Facebook, YouTube and other social media. Some also offered online prayers and devotionals throughout the week.
Church doors reopened for daily Mass on May 7, but with a host of restrictions. Among them were that those entering the church were to wear masks while entering and exiting the building, they were to maintain social distancing of 6 feet from anyone not of their household, Communion was to be received in the hand, there was to be no distribution of the Precious Blood, and the pews were to be sanitized after each service.
As restrictions eased, Gov. Herbert initially limited any public gathering in the state to no more than 20 people; the following week, that was raised to 50 people.
Although the number of people allowed to gather has increased, not all parishes in the diocese are able to accommodate them. To maintain proper social distancing, the parishes have taped off pews that normally would be used. To keep the number of people at the Mass within the approved limits, pastors have instituted some sort of signup process for parishioners.
Because of the limitations on the size of congregations, and because of those who are vulnerable, ill or unwilling to enter public places for fear of infection, Bishop Oscar A. Solis has suspended the normal Sunday obligation to attend Mass.
Nevertheless, Catholics throughout the diocese returned to the Sunday celebration of the Eucharist on the weekend of May 16-17 – when most of the churches in Utah were open for their typical Masses.
"It was wonderful," said Connie Welch, who attended the 10 a.m. Sunday Mass at St. John the Baptist Catholic Church in Draper with her daughter, son-in-law and three grandchildren. "It's been really difficult to not have the Eucharist."
"It was fabulous," added parishioner Debbie Moushey through tears. "It just felt really good."
At St. Therese of the Child Jesus Parish in Midvale, 20 parishioners attended the 5 p.m. Mass at the parish social hall May 16.
"I loved it; it felt different," Valerie Escarciga said. "With the world going through this virus, coming back is like a miracle."
"It feels good that we get together with other people and we get to separate from this mess we're in," said John Martinez, another parishioner. "We have to keep a distance away from each other, but I'm glad we're back to church. I like it this way even though it's kind of hard; I'd rather have this than nothing."
To prepare for the May 17 Mass at St. Francis of Assisi Parish in Orem, clergy, staff and volunteers converted a room into a small chapel in which 20 parishioners could gather for the liturgy and at the same time follow the state guidelines. The chairs are separated from each other by 6 square feet, and parishioners are asked to wear a mask and gloves except when they receive Communion.
"It's a great joy to welcome once again people here," said Luis Velasco, the parish's director of religious education.
Being able to return to the parish for Mass filled Laisa Ortiz with joy and hope, she said.
"Now, with all the things going on, I have a huge need for God in my life. ... Seeing the Mass online or on the TV was not the same for me," Ortiz said.
Her anxiety turned to peace the moment she received Communion, she said.
"Receiving His Body was something really special," she said, adding that physically being at the parish was a huge blessing.
Jena Bowen agreed with her.
"Receiving once again the Eucharist is a blessing itself," said Bowen, who expressed her joy at being at the parish by greeting everyone while still maintaining the social distancing, giving compliments and expressing her happiness.
Parishioner William King, who had been watching the Masses online at home with his parents, who are part of the vulnerable population, served as lector at the Mass and was happy to help out, he said.
"That's the whole goal – you don't need authority telling you to help someone, you just do it by yourself. ... That's the point of our religion," he said.
Fr. Gustavo Vidal said it was good to have parishioners back for the Mass, but he intends to continue livestreaming the liturgy because the parish averages 1,000 views per livestreamed Mass.
"The English Masses have been viewed from all over the United States, and the Spanish Mass has been watched from Argentina, Colombia, Panama, Mexico. ... We have received messages from people from all those places," Fr. Vidal said.
At Holy Family Parish in Ogden, Rose Berry said she was excited when she heard that the church would once again be open for public participation in Mass. "It's just hard to listen to the virtual Mass online or on TV," she said as she entered the church for the vigil Mass on May 16.
Although she belongs to a Facebook group that has offered spiritual sustenance through prayer and reflection during the pandemic, and she regularly watched the Sunday liturgy online, she prefers coming into the church. Most of all, she said, she missed being able to receive Communion, because being able to take in the Body and Blood of Christ brings her closer to God.
Pastor William Wheaton has added two additional Masses to the parish's weekend schedule; each of the four Masses accommodated 50 people. He also offers three Masses on weekdays, and he encourages senior citizens to attend those, which don't require a reservation as the Sunday Masses do.
For the weekend of May 23, he anticipates being able to have 75 people in the church, which is big enough for this number while still being able to maintain social distancing. Before the pandemic, the largest Sunday Mass typically drew about 400 people, so Fr. Wheaton is hoping with the additional Masses all parishioners who wish to attend a weekend Mass will be able to do so.
While churches such as Holy Family and St. John the Baptist are able to maintain social distancing even with the larger groups allowed by the governor, others such as St. Helen Parish in Roosevelt are limited by space. Prior to the pandemic, the Sunday congregation was about 50 people, twice what the church can accommodate with the social distancing strictures, said Fr. Anil Kakumanu, administrator of St. Helen.
On May 17, a dozen people attended Mass. If social distancing requirements remain in place as more people return, Fr. Kakumanu plans to add a second Mass to the schedule.
For the Mass on May 24, at which three people will receive the Sacrament of Confirmation, the liturgy will be celebrated in the parish's social hall, which is larger than the church. Each of those being confirmed is expecting about six guests, Fr. Kakumanu said.
Hector Soto, who with his wife and three daughters attended the May 17 Mass at St. Helen's, said being able to return "means a lot, spiritually. We get stronger in our faith."
As with most other Catholics who are returning to Mass, Soto was most looking forward to being able to receive Communion. "In that way, I feel more peaceful in myself, and I feel more strong."
St. Helen parishioner Janet Alberts became emotional after Mass as she described being in the church once more. "I feel God here," she said, a catch in her voice. "In my house I feel God a little, but I really feel it here."
Celebrating Mass again with members of his congregation present in the church is a good experience, Fr. Kakumanu said.
"It shows that God loves us," he said. "God loves us, God cares for us, and he is always with us, as we find in today's Gospel. The Spirit of the Lord is always with us, or we are with him; that's the same thing."