Madeleine Festival continues through May 6
Friday, Apr. 13, 2018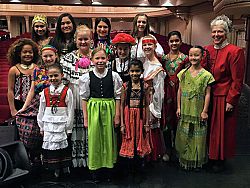 Courtesy photo
+ Enlarge
SALT LAKE CITY — The 30th season of the Madeleine Festival of the Arts & Humanities kicked off April 8 with the American Festival Chorus And Orchestra.
Next on the schedule is the April 15 collaborative effort of the Rosenberg, Price, Campbell Trios. That will be followed April 22 screening and discussion of several KUER videos with RadioWest and RadioWest Films executive producer Doug Fabrizio, along with director of photography Kelsie Moore and producer Elaine Clark.
During the evening Fabrizio and his colleagues will share three short videos. The first, "Closing a Monastery," documents the closing of the Abbey of Our Lady of the Holy Trinity in Huntsville. A second, part of the "Taste One Moment" series, breaks down a single piece of art or music, examines Handel's "Messiah." The third, which launched last month on KUER, is "Sanctuary," the story of Vickie, a Honduran woman about to be deported who sought sanctuary in a local Unitarian church.
"We've created these films to be another way of story-telling," Fabrizio said. "We look forward to the opportunity to share our films and what we went through in the production process."
On April 29, the International Children's Choir will present a selection of music from around the world. This performance will feature classical, gospel, contemporary, folk and even rhythm and blues from the United States and other countries, in a variety of languages and accompanied by musical instruments ranging from the soprano saxophone to the cathedral organ.
Two numbers will be accompanied by dance performances, one a ballet and the other a Bharatanatyam-Indian classical dance.
The choir, composed of singers ages 6 to 17, was founded in 1993 by Sorensen to welcome people from around the world to the U.S. through music. It has performed in "Welcome the World" concerts with the Utah Symphony and Tabernacle Choir during the 2002 Winter Olympics and as part of the opening ceremonies of the 2006 World Choir Olympics in China.
"The choir's overarching goal is to bring people from all different backgrounds together through their enjoyment of music," Sorenson said. "So for our program that night we're reaching far and wide to ensure there's at least one thing in there that each person should like."
The festival will close with a May 6 performance by Two Shields Native American dance company featuring Native American music, pow-wow dancers, a hoop dance and Native American flute music.
Upcoming Performances
Sunday, April 15: Rosenberg, Price, Campbell Trio
Sunday, April 22: KUER short films
Sunday, April 29: The International Children's Choir
Sunday, May 6: Two Shields dance company
All performances begin at 8 p.m. at the Cathedral of the Madeleine, 309 E. South Temple, Salt Lake City. Free and open to the public. Seating is on a first-come basis.