Memorial migraine foundation established
Friday, Apr. 29, 2016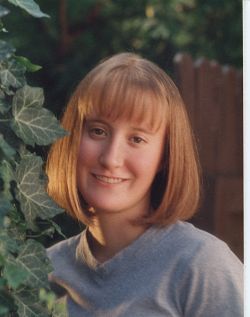 Courtesy photo
+ Enlarge
SALT LAKE CITY — The Danielle Byron Henry Migraine Foundation was established in March to increase public awareness of migraine disease and its impact on patients, their families and society; and to provide support through treatment, including traditional preventatives, alternative therapies and support groups.
The ultimate goal of the foundation is to help build a comprehensive headache treatment center in Salt Lake City, said Dr. Dan Henry.
Henry, his wife, Diane, and their daughter, Elizabeth Weyher, are founders of the foundation in honor of their daughter and sister, Danielle, who struggled with migraine disease for almost 10 years until she ended her life in 1999 at age 17.
Danielle, who attended Judge Memorial Catholic High School, used to say, "I wish I had a brain tumor so that people would believe me," Dan Henry said. "She was a gifted student and athlete with a wry sense of humor. The disease started when she was 5 and progressed. When she was 11, she was getting migraines a high percentage of days, which prevented her from attending school, participating in sports and enjoying her childhood. We tried all types of medications, consults with top experts and each year her disease got worse."
Since 1999, Henry has devoted his practice to helping migraine patients. The most frustrating issues he has encountered in his practice are the lack of understanding, support and funding for migraine treatment and research, he said.
Migraine disease is debilitating – it's not just a headache, but a severe neurological disease, Henry said. "The most difficult part of migraine disease is that it is largely unseen and misunderstood," he said.
More than 36 million people in the United States have migraine, approximately 12 percent of the population. Migraine is the third most common and the seventh most disabling medical disorder in the world, affecting 30 percent of women and 10 percent of school-aged children.
Nearly 1 in 4 U.S. households include someone with migraine, which is a severe recurring throbbing pain on one side of the head, although in about one-third of attacks, both sides are affected. Attacks are often accompanied by one or more symptoms including visual disturbances, nausea, vomiting, dizziness, extreme sensitivity to sound, light, touch, smell and tingling or numbness in the extremities or face. In about 15 percent of attacks, other neurological symptoms occur before the actual head pain; attacks usually last between four and 72 hours.
For some, migraine is a chronic disease that occurs at least 15 days or more per month, significantly diminishing a sufferers' quality of life; about 14 million people experience chronic headache. For more than 90 percent of all sufferers, migraine interferes with their education, career and social activities. Depression, anxiety and sleep disturbances are common for those with chronic migraine.
One of Henry's patients, Courtney Reinecke, has suffered from chronic migraine disease; she was 5 when the disease began, but didn't realize it was migraine until she was 17. Her migraines worsened when she was 13 and began playing soccer; she would often play two games in one day, only to go home ill and vomiting with a migraine, but her parents thought she was just over-exerting herself.
"My migraines overtook my life; I was barely going to school and just sick all the time," said Reinecke. "In 2014, I had a hemiplegic migraine with stroke-like symptoms, where my left side went numb. I got to the point where my migraines were not going away."
Reinecke's migraines now are under control to the point that she gets about five a month; her treatment includes daily preventative medication, a restrictive diet and medication to abort an oncoming migraine.
During the most difficult period of Reinecke's migraine disease, she felt frustrated by others who told her to "push through it," she said.
"There is nothing you can do but rest until the pain subsides," Reinecke said. "I was one of the reasons for the foundation; I broke down to Dr. Henry saying 'I wish I could go somewhere where people understood me, or I could get the word out."
Through the foundation, Henry would like to educate patients, "but more importantly, educate teachers, administrators and employers, and get health care providers involved in understanding the disease, diagnosing migraine and providing treatments," he said.
A fundraiser for the Danielle Byron Henry Migraine Foundation will be held Friday, June 10, at 6 p.m. at the IJ & Jeanné Wagner Jewish Community Center, 2 N. Medical Drive, SLC. Tickets are $65 per person; visit www.facebook.com/daniellefoundation.