Migration Week is a reminder that immigrants are part of us
Friday, Jan. 09, 2015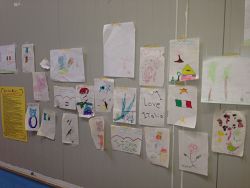 Intermountain Catholic
+ Enlarge
Over the course of the past year, I met many people who reaffirmed my belief that immigration is one of the most pressing issues in the world today. At the U.S.-Mexico border, men and women shared their tales of desperation with me and my brother bishops at a soup kitchen in Nogales. These brothers and sisters had walked for days in the heat of the Sonoran desert, seeking a promised land. Instead, they found border patrol agents and a bus trip back to poverty and violence.
In Sicily, I met migrants from Africa who braved a sea crossing packed into dangerously overcrowded boats, trying to escape war and the violence of poverty. They, too, spoke of their hope for a better life.
All of these immigrants, although they were from vastly different cultures, had the common desire to improve their lives. None had visions of big homes filled with untold luxuries. All were on a far simpler search for a place to rest their weary heads, to be able to feed their families, to work, to feel safe.
Each year, our Catholic Church takes special care to remember those with no home or country to call their own. During Migration Week, which this year is Jan. 4-10, we offer our prayers for men, women and children forced to travel across oceans, deserts, borders in search of the basics needed to live a truly human life. We remember the thousands of children at our border this past year, actively seeking out border patrol agents in the hope they would be taken into U.S. custody, terrified of being sent home to face gang members and death threats. We remember mothers and fathers compelled by those same threats to send their children thousands of miles away. We also pray for parents forcibly separated from their families and deported to countries they barely remember for minor – and common – infractions of U.S. law, such as traffic violations.
Throughout Migration Week, we reflect on the plight of our migrant neighbors. Whether their migration took place decades ago or days ago, migrants share some common experiences: They leave all they have known for strange new lands, new customs, new languages, new rules. Throughout, they encounter both hostility and hospitality. For many poor migrants, the journey is treacherous. From the notorious la Bestia train across Mexico to the deserts of Arizona, many migrants will die trying to find a home in the U.S. African migrants to Sicily have suffocated on overcrowded boats and thousands have drowned. Outdated immigration laws are in many ways the very least of a migrant's troubles, but the most easily resolved.
The theme for Migration Week 2015, "We are One Family Under God," is an important reminder that immigrants and refugees are not "those" people, but a part of "us." As St. Paul wrote, we are all "coheirs, members of the same body." (Eph. 3:6) Across the globe, 175 million members of our family seek safety and sustenance in unknown lands. As we continue our celebrations of the Holy Family with our own families, we must also take every opportunity to speak on behalf of our migrant family members and advocate for their rights to pursue lives of dignity within their home countries and abroad.
Please join me during Migration Week as we pray the U.S. Conference of Catholic Bishops' We Are One Family Under God prayer:
LOVING FATHER, remembering that the Holy Family fled violence and lived for a time as refugees, we ask that you protect all refugee families fleeing persecution, and provide them a place of safety and comfort.
For children who are making perilous journeys, often alone and without the protection of loved ones, we ask that you reunite them with their families and protect them from violence on the journey.
For all migrants, that they not feel compelled to migrate but have opportunities in their homeland where they can thrive and live fully human lives.
Open our hearts so that we may provide hospitality for those who come in search of refuge.
Through our Lord Jesus Christ, your Son, who lives and reigns with you in the unity of the Holy Spirit, one God, forever and ever. Amen.