Monsignor Fitzgerald: 60 years of priesthood
Friday, May. 20, 2022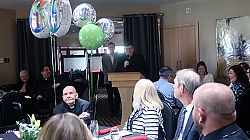 IC photo/Marie Mischel
Photo 1 of 2
SALT LAKE CITY — Monsignor J. Terrence Fitzgerald, the diocese's vicar general emeritus, is held in great regard by many Utah Catholics. On May 12, Msgr. Fitzgerald, a native Utahn, celebrated the 60th anniversary of his ordination as a priest for the Diocese of Salt Lake City. During those years he has held every major post in the diocese, serving as pastor, principal, school superintendent, and two terms each as vicar general and diocesan administrator, among other assignments. He also was executive director of Catholic Charities, now Catholic Community Services, for two terms.
Now the assistant to the bishop, he also is serving his fourth term as diocesan consultor.
Outside the diocese, Msgr. Fitzgerald was president/rector at Mount Angel Seminary for six years and was a chaplain for the U.S. Army Reserves for 14 years. He also served on the Catholic Extension mission committee for three terms and has served as president of the Price Foundation since 1987. He has been a member of the Knights of Columbus since he was in the seminary, and also was invested in the Equestrian Order of the Knights and Ladies of the Holy Sepulchre.
The only child of Joseph and Margaret Fitzgerald, Msgr. Fitzgerald was born in Salt Lake City. He attended Judge Memorial Catholic Grammar School and then High School. He entered Mt. Angel Seminary in St. Benedict, Ore., in 1954 and graduated in 1962. Following his ordination that May, Msgr. Fitzgerald attended the Catholic University of America and the University of Utah, where he earned a master's degree in social work. He was then named administrator of Notre Dame Regional High School in Price, followed by two years as the diocesan director of religious education and assistant superintendent of Catholic Schools. Later, he served as principal of his alma mater, Judge Memorial Catholic High School.
He went on to serve as vicar general, vicar for clergy, diocesan director and chair of several commissions, diocesan consultor and diocesan administrator during Interregnum (the period when a diocese is without a bishop), diocesan promoter of justice and assistant to the bishop.
In remarks honoring the monsignor at a staff luncheon that day, Monsignor Colin Bircumshaw, vicar general, enumerated many other unofficial positions Msgr. Fitzgerald has held in his 60 years serving the diocese: "administrative genius, real estate broker (although he doesn't have a license), investment banker, building contractor, architect, supply priest, mailman, archivist."
"He has offered every fiber of his … being for the Church, especially the Church here in Utah," Msgr. Bircumshaw said.
Msgr. Fitzgerald as a "Utah-born dynamo accepting assignments with vigor, optimism and a wry little smile" has "done all things well happily and generously," Msgr. Bircumshaw said. "As a priest his advice and wisdom have been eagerly sought by everyone who has come to know him, from the bishops he has served, to the priests with whom he has served, to the people he has come to know along the path of ministry."
Anyone who knows Msgr. Fitzgerald well knows how personally generous he is to the needy, Msgr. Bircumshaw said. He shared how as the two have traveled over the years, Msgr. Fitzgerald has taught him to always carry dollar bills in his pockets to give to the poor they encounter in the streets.
Msgr. Fitzgerald, who has worked for five bishops, officially retired in 2011, but he still puts in many hours every week working at the Pastoral Center as an assistant to Bishop Oscar A. Solis.
"Really, Monsignor never did retire," Msgr. Bircumshaw said. "He has had to be busy every day; that's who he is. With something to do, some purpose to fulfill, the absolute opposite of the narcissist, his life has never been focused on himself but on the Mission of the Church."
With a reputation for his quick wit and common sense, Msgr. Fitzgerald has seen the end of many institutions in the diocese such as the Catholic hospitals, the Trappist monastery and the departure of the Franciscans, Jesuits and other religious orders whose members have served in Utah.
"His reaction has always been sensible but practical: 'You shed some tears, then you move on,'" Msgr. Bircumshaw said.
Concluding his remarks at the May 12 luncheon, Msgr. Bircumshaw said to Msgr. Fitzgerald, "May the Good Lord continue to give you the energy and enthusiasm that is the envy of many and has typified the indefatigable pastor bonus the good shepherd, you have been."
Bishop Oscar A. Solis also invoked the blessings of heaven on Msgr. Fitzgerald as he honored him that day.
In Msgr. Fitzgerald's 60 years of priesthood ministry, "imagine the gift has he given to the Church and the people whose lives have been touched, not only in the anointing, in Confession but as well as in words of charity," the bishop said, adding, "I have tremendous admiration and respect for this guy. I don't know if I would still be standing here alive if not for Msgr. Fitz; he has kept my sanity. I have never met such a wonderful man who is so simple and filled with wit and common sense."
Msgr. Fitzgerald helps him deal with the stress whenever he starts to feel overwhelmed by all of the problems of the diocese, Bishop Solis said. "The greatest answer he has imprinted in my mind when I am starting to try to battle all these problems and issues in the diocese, he says, 'Bishop, you know what? Before you came, we didn't have all those problems; why worry about it?'"
"Thank you for being part of our lives, Uncle Fitz, and our prayerful wish is that God will continue to bless you with good health, with peace, with common sense, with joy and I hope, longer years of service until I retire," he concluded.
In his response to the accolades, Msgr. Fitzgerald was his typical self-depreciating self. "Thank you," he said. "What does one say to all of that? You wore me out."
Msgr. Fitzgerald credited his long life and stamina to the chocolate chip cookies the sisters of the Holy Cross bake for him regularly.
"Sixty years ago, if I'd ever seen most of the items on that [curriculum vitae], I would have jumped out the window. I couldn't have imagined being involved in so many things," he joked. "As l look over those 60 years with all the challenges, the great blessing for me has been the people like you, who are close friends and supporters, such good examples and mentors, people who work very hard at what you do and are caring about your families, friends and about the common good, about trying to make things better in a world that is so often very troubled."
In closing, Msgr. Fitzgerald poked fun at his own longevity.
"The diocese was established in 1891. We've had 10 bishops and I've known six; what does that tell you?" he quipped.