Msgr. M. Francis Mannion
Friday, Aug. 03, 2012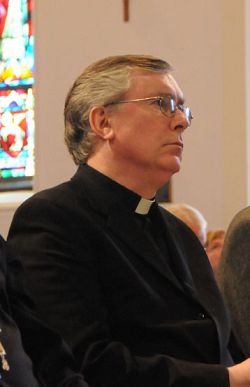 Intermountain Catholic
+ Enlarge
SALT LAKE CITY — Monsignor M. Francis Mannion, pastor of Saint Vincent de Paul Parish in Salt Lake City, will retire this month. In his 39 years as priest with the Diocese of Salt Lake City, he has served at several parishes, including two six-year terms as rector of the Cathedral of the Madeleine.
"The most important contribution he has made is as a faithful priest," said Monsignor Colin F. Bircumshaw, the diocese's vicar general. "Perhaps the most tangible contribution, of course, was his restoration of the Cathedral of the Madeleine – celebrated for its tastefulness and liturgical appropriateness nationwide."
The Cathedral was dedicated in 1909; restoration of the artwork and renovation of the sanctuary, altar, baptismal font, confessionals, and Stations of the Cross was completed in 1993.
"My proudest achievement is my involvement in the renovation of the Cathedral," said Msgr. Mannion, who was elevated to Monsignor on Dec. 5, 1991. "I am very pleased by how it turned out – beyond all our expectations."
Also while he was the Cathedral rector, the idea arose of a choir school. "I was very leery about the whole project, but Greg Glenn (the school's founding director) convinced me it could be done," said Msgr. Mannion, adding that he was concerned about the cost of such an undertaking, and the fact that there are few choir schools in the United States. However, Glenn provided the data that such an institution could be successful, and the Madeleine Choir School began in the cathedral basement in 1990. In 2008 the school moved to the former Rowland Hall-St. Mark's School in Salt Lake City. It offers grades preK through eight.
Born and raised in Galway, Ireland, Msgr. Mannion was about 7 when he first thought he might have a church calling. "I had the general feeling that I should be a priest," he said. Following that feeling, he entered the seminary at age 19 and was ordained a priest for the Diocese of Salt Lake City in 1973.
"A number of priests came from Ireland to Salt Lake City, starting with Bishop Scanlan (the diocese's first bishop," Msgr. Mannion said.
His post-graduate work included a master's degree in liturgical studies and a doctorate in sacramental theology, both from the Catholic University of America. His interest in the liturgy "led to writing, speaking, publishing," he said – he is author of numerous articles in various publications and has given lectures and addresses at a number of venues, including the University of Utah, St. John's University in Minnesota and St. Meinrad Archabbey in Indiana. From 1991 to 1992 he was co-presenter of "From the Cathedral," a weekly program on KUTV, and he writes a column for a national Catholic newspaper. He also was the founding director of the Mundelein Liturgical Institute in the Archdiocese of Chicago, a position he held from 2000 to 2002.
"Msgr. Mannion was and is a very insightful sacramental and liturgical theologian who has assisted both the leadership – bishops and priests especially – and lay faithful by his theological expertise," Msgr. Bircumshaw said.
Having recently lost sight in his left eye and having been diagnosed with a mild medical disorder, Msgr. Mannion will retire, effective Aug. 17, although he will remain active in ministry.
"I'm going to work in retirement," he said. "Retirement means that my ministry takes a new form. It will continue to be at St. Vincent's. I will be of assistance to Fr. Norman, the new pastor, and expect to be involved intimately in many aspects of the parish's life."
"His service and contribution is not coming to an end, by any means, in his retirement," Msgr. Bircumshaw said. "Though relieved of administrative responsibilities, I am sure he will continue to contribute both with his theological expertise and by his pastoral ministry in many capacities within and beyond our diocese."