Msgr. Robert Servatius is honored in the Year of the Priest
Friday, Nov. 06, 2009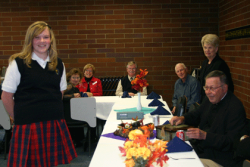 Intermountain Catholic
+ Enlarge
SANDY — In honor of the Year of the Priest, Blessed Sacrament School held a surprise luncheon on Oct. 14, to honor Msgr. Robert Servatius, pastor of Blessed Sacrament Parish. The hall was decorated with a banner declaring 'Happy Msgr. Bob Day.'
Msgr. Bob, as the students call him, is in his 46th year as a priest, and his 23rd year at Blessed Sacrament Parish and School.
"You are a priest for life," sang the after-school choir during the 10:30 a.m special Mass for Msgr. Bob. The after-school choir is under the director of Laura Thomas.
Megan Tigue, the Blessed Sacrament School student body president, presented Msgr. Bob with an antique box containing notes from all the students that began with "I like Msgr. Bob because…" Msgr. Bob read what one student wrote. "I like Msgr. Bob because he built the school and I like it."
Msgr. Bob also was presented with a scrapbook assembled by Jillian West, an alumna of Blessed Sacrament School from the class of 2005. The scrapbook begins with photos from 1986 when he first came to the school and parish to the present.
To those assembled at the luncheon, Blessed Sacrament School Principal Judy Julian read a few comments people had written remembering Msgr. Bob throughout the years. Sherry Guthrie wrote, "I remember the water fights and the late night card games. It was a very special part of my childhood. I also loved how we prayed together."
"This shows the fun side of Msgr. Bob with the youth, which he continues to have," said Julian.
Gregory Dalton, a bank president in Sandy, wrote, "When I first met you, I realized you had a goodness and kindness about you. I wanted to know how to appropriately address you. You reassured me that Bob was just fine."
"I think this shows Msgr. Bob's humility, which he has always had in every instance," said Julian.
Cathy Williams stated Msgr. Bob has an uncanny ability for remembering names, jokes and events in people's lives, which she said are dear to people.
Sharon Jackson, pastoral associate at Blessed Sacrament Parish wrote, "Msgr. Bob you are a priest of integrity, wisdom and compassion."
To which Msgr. Bob, answered, "She has to say that, I pay her," and the teachers and staff gathered all laughed.
Matt DeVoll, Blessed Sacrament School counselor and vice principal, said, "Msgr. Bob gives good guidance. I appreciate our good conversations, and I would like to play golf with you. On a grander scale, Msgr. is a great support of the school and that extends into the diocese."
Laura Leverich, Blessed Sacrament fourth grade-teacher, told Msgr. Bob that he has helped her and her family so much during trying times that they really love and appreciate him.
Cheryl Illario said she lost both of her parents within five weeks of each other and Msgr. Bob comforted her by saying, "Now we are both orphans."
Sonia West, Blessed Sacrament advancement director, recalled how Msgr. Bob influenced her husband to take the step to convert to Catholicism.
Others referred to how he helped them throughout RCIA, and how one student could not say monsignor so he called him mosquito Bob, how his popularity is national as the priest moderator for the Diocesan Council of Catholic Women, and how he is such a holy person.
"I have to say it is not very often in my life I am known as a person of very few words, but today is one of them," said Msgr. Bob after hearing so many kind words about him. "I feel like President Calvin Coolidge who was known as Silent Cal. Thank you all for what you have said and what you have done. In 1998, I dreaded the thought of leaving here because of a tenure policy. But when I got the letter from (then) Bishop George Niederauer, now Archbishop Niederauer, reassigning me to Blessed Sacrament, I was delighted. This is home for me. I would not want to be anywhere else."
Msgr. Bob spent the rest of the day visiting all the classrooms because they each had something special planned for him.