New format for Diocesan Pastoral Congress
Friday, Jul. 23, 2021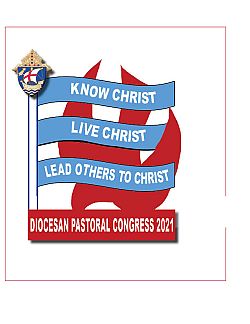 Design: Laura Vallejo
+ Enlarge
SALT LAKE CITY — Providing the tools for baptized Catholics to share the faith is the goal of this year's Diocese of Salt Lake City Pastoral Congress.
With a theme of "Know Christ, Love Christ, Lead Others to Christ," the Pastoral Congress, which will be held Sept. 18, will embrace a new format that will make its message more accessible to the faithful across the diocese.
In previous years, the Pastoral Congress was held at one location, where the faithful joined together to hear speakers give live presentations. This year, Catholics will gather in parishes and missions with their pastors and lay leaders to pray together, hear a prerecorded message from Bishop Solis, and see video presentations from Brother Loughlin Sofield, ST and Father Sergio Serrano, O.P.
Br. Sofield will present the English-speaking session; Fr. Serrano will lead the Spanish-speaking session.
Br. Sofield is the author of Collaboration, Using Our Gifts in Ministry and other books on human formation. He has visited the Diocese of Salt Lake City as a guest presenter for the lay ecclesial minister formation program and a facilitator for a day of reflection.
Fr. Serrano was a retreat master for the diocese's 2021 Lenten Retreat. A friar in the Southern Dominican Province of Saint Martin de Porres, he is engaged in the Hispanic Apostolate within the Archdiocese of New Orleans.
After hearing Bishop Solis' message and listening to the video presentations, parishioners will participate in local discussion groups that will address key questions provided by the presenters. Parishes are being encouraged to have a social afterwards, depending on their circumstances. This flexible format will allow parishes to schedule the Pastoral Congress at a time that makes sense for them.
"The gathering in the local parishes is so important because people are just beginning to come back" to in-person events after the pandemic, said Susan Northway, director of the diocesan Office of Faith Formation. "This is going to give them an opportunity to take some wonderful ideas that are coming from our speakers and talk about them and how they can implement some of these. It also brings the focus back on the Pastoral Plan of which adult formation is a key element."
Diocesan leaders and pastors praised the Pastoral Congress' new format.
Although it would be ideal to have the Pastoral Congress in person, the recent uptick in COVID-19 cases means that this year's format is the best way for Catholics to gather, said Maria Cruz Gray, director of the diocesan Office of Hispanic Ministry.
The format allows Catholics to listen together as a parish and to do so at a time that is most convenient for them, she said. Parishes can also use the opportunity to follow the presentations with a discussion focused on addressing local needs, priorities and elements of the Pastoral Plan.
"I think it is good because it is diocese-wide," Gray said. "Everybody is going to hear what [the presenter] has to tell them."
Gray said members of her office as well as EMAUS leaders (the Spanish-speaking lay ecclesial ministers) can provide assistance to parishes in hosting the Pastoral Congress locally and implementing the Pastoral Plan.
"This Church is not the Church we had two years ago; we have to reinvent it," she said. "It's the same Lord, it's the same Church, but somehow we need to get together; we need to learn."
Attending the Pastoral Congress also gives those who are new to the parish an opportunity to meet other parishioners, find out about its ministries and to get involved, said Cruz, who plans to invite others, including her non-Catholic neighbors, to attend the Pastoral Congress.
"Haven't we been isolated long enough?" she asked. "This is a chance for people to talk to each other and feel good about what we are."
The new format makes it easier and more convenient for parish leaders to attend the Pastoral Congress, said Father David Bittmenn, pastor of St. George Parish.
"In the past, it has been difficult for the parish catechists to travel to Salt Lake City, stay over for the Pastoral Congress and still make it make it back to celebrate Mass and teach CCD on Sundays," he said. "That has always been awkward for us, so I think this is a really good thing."
Father Christopher Gray, pastor of St. Mary of the Assumption Catholic Church in Park City, thinks the simpler format will allow parishes to easily host it for their congregations. "I think it will be a great way to encourage participation among a very wide scope of people from all over the diocese," he said. "I'm excited about it."
Although officially the Pastoral Congress will take place Sept. 18, pastors are encouraged to schedule the congress at a time close to that date which makes sense for their parishes. Fr. Gray said he may hold his parish's gathering at a different time or day, depending on feedback from parishioners.
Another advantage to the new format is that those who have Wi-Fi capabilities will be able to view the presentations remotely. Some parishes may organize Zoom groups; contact your parish for details. There is no cost to attend the Pastoral Congress; however, a parish may charge to cover costs if they host a luncheon or other social.