New movie shines a light on human trafficking
Friday, Jul. 07, 2023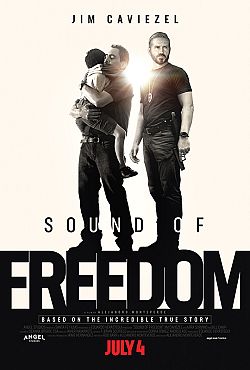 Courtesy graphic
+ Enlarge
UTAH — "It is not possible to remain indifferent before the knowledge that human beings are bought and sold like goods!" Pope Francis said in 2014 during the Fraternity Campaign in Brazil, which had the theme of "Fraternity and Human Trafficking."
These words resonate strongly today; the U.S. Department of Justice estimates that there are 27.6 million trafficking victims worldwide, millions of children among them. Their plight is the focus of "Sound of Freedom," a movie that tells the true-life story of anti-sex trafficking activist Tim Ballard.
Ballard began his career at the CIA, spending more than 10 years battling child exploitation as a special agent for the U.S. Department of Homeland Security. Later, when he was assigned to the Internet Crimes Against Children Task Force, Ballard was deployed as an undercover operative for the U.S. Child Sex Tourism Jump Team; in this job he infiltrated criminal organizations that trafficked children.
The movie's goal is to raise awareness about the evils of sex trafficking, and its message is "the children of God are not for sale." That message was shared by the producers, director, cast and all who were involved in making the film, during an interview at the movie's June 28 premiere in Provo.
Directing the movie "was a call," said Alejandro Monteverde, who directed 2015's "Little Boy" and "Bella" in 2006. "At the beginning I was not aware of all this darkness, and as I learned of what is going on I felt the need to get involved, and the only way I could do it was through telling the story."
Knowing that children are exploited because the traffickers take advantage of human desperation has made Monteverde "rethink that our lives are more worthy when you use your talents to defend the human dignity," he said.
The movie shows, in an artful but heartbreaking way, how traffickers kidnap children, and also includes the tale of two young Honduran siblings who are kidnapped.
Ballard's battle against the sexual enslavement of kids is portrayed by Jim Caviezel, who is perhaps best known for his leading role in 2004's "The Passion of The Christ."
Ballard said that being played by Caviezel meant everything to him.
"He loves Jesus and I love Jesus. ... When I did operations it always came to my mind what Jesus said about hurting children," Ballard said, recalling Mark 9:40 – "Whoever causes one of these little ones who believe in me to sin, it would be better for him if a great millstone were hung round his neck and he were thrown into the sea."
"That phrase was not part of the script, but Caviezel said a portion in the movie and when he does it is one of the most beautiful moments of the film," Ballard said, and added, "You really feel Jesus coming through him as he looks in the eyes of a pedophile."
In choosing to share his story, Ballard said he would not have made the movie with anyone else. "Not only do Eduardo Verastagui (the movie's producer) and Alejandro Monteverde share the same purpose, the main goal is to bring light to the world."
Verastagui, who also plays the role of Paul in the movie, said that putting his treasures, talents and time into making the film felt like a calling. When he met Ballard more than eight years ago and heard his story, Verastagui thought to himself, "OK, I have a weapon of mass instruction and inspiration: film. ... Movies can move people," he said.
Verastagui, a devout Catholic, said he "made the promise to God that I would try my best to end child trafficking. It is not just about a film; it is about a movement. ... This is a global problem that needs a global solution."
"Sound of Freedom" is "putting a light into the darkness, and that is very important," Monteverde added.
Watching the movie myself, I can say that it makes you stop and think about the fact that in the United States child trafficking is very common, and it affects boys and girls as young as 6 years old.
"Sound of Freedom," being distributed by Utah-based Angel Studios, was released into theaters on July 4. The film contains mild violence, some mature themes, a bit of crude language, so although it is rated PG-13, parents should consider whether they wish their children to watch it.