New priest to serve in Utah's Holy Cross Hospitals
Friday, Sep. 22, 2023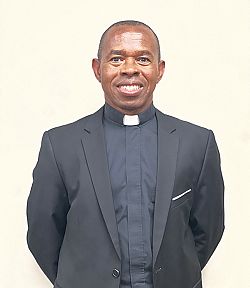 Courtesy photo
+ Enlarge
SALT LAKE CITY — A priest new to Utah is working in Holy Cross Hospital's five facilities along the Wasatch Front. Fr. Godwin "Tema" Nnamezie arrived in Utah in mid-July to serve as the director of mission integration, spiritual care, volunteer services and community health improvement for CommonSpirit Health, which manages the Holy Cross Hospitals in Utah.
A native of Unubi, Anambra, Nigeria, Fr. Tema (as he prefers to be called)discerned his call to the priesthood during his high school years. He went on to complete seminary and earn bachelor's degrees in theology and philosophy in Nigeria. He was ordained on August 8, 1998 in Unubi, Anambra, Nigeria. He then pursued further education in Colorado Springs, Colo., where he received a master's degree in business administration from the University of Phoenix Colorado Springs. He later received a doctorate degree in business administration from Trident at American Intercontinental University Phoenix, Ariz. Since becoming a priest, he has felt called to hospital ministry and has served with CommonSpirit Health and Centura Health for close to 20 years.
Prior to moving to Utah, he was the interim director of mission integration at St. Anthony Hospital in Lakewood, Colo., where he led a team of 11 associates. Before that he worked in the same position at other hospitals and as a hospital chaplain. Before coming to the United States, he served as director of spiritual life at Blessed Iwene Tansi Major Seminary in Onitsha, Nigeria.
In Utah Fr. Tema will primarily work in the five hospitals as a chaplain and chaplain supervisor while ensuring the mission of CommonSpirit Health (which is to "make the healing presence of God known in our world by improving the health of the people we serve, especially those who are vulnerable, while we advance social justice for all") is carried out in the facilities.
"In my work, you know, we try to influence the care we deliver, everything, to make the hidden presence of Christ seen and heard and felt in interactions with those we serve," he said.
In this role, he will be adding more chaplains and support staff at the five hospitals "but in the meantime, you know, I run around to all the hospitals," he said. "I've been able to really function as a hospital chaplain. I interface with caregivers depending on the questions I have."
In the community health improvement area, Fr. Tema serves as a liaison with other hospitals and community health facilities. "I have been working on processes because [Holy Cross Hospitals] being a faith-based organization in the market, I'm trying to really create views and grow spiritual care services and community health improvement and volunteer services," he said.
Because Fr. Tema's assignment with CommonSpirit Health is a full-time position, he will not have a diocesan assignment, but he has volunteered to help in any way he can. Fr. Tema will remain under the authority of his bishop in Nigeria, the Most Rev. (Dr.) Jonas Benson Okoye but plans to enjoy a close relationship with the presbyterate in Utah and Bishop Oscar A. Solis, he said.
"I'm pretty excited to be part of it, Salt Lake City," he said. "I have been getting in touch and connecting with the bishop and the clergy and sharing with them our processes."