New principal starts at Kearns-Saint Ann School
Friday, Jul. 06, 2018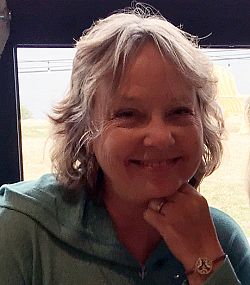 Courtesy photo
+ Enlarge
SALT LAKE CITY — Susan Nakaba has more than 30 years teaching and administrative experience that she is anxious to employ to help Kearns-Saint Ann School maintain its strong traditions and contributions to the community as she steps in as principal.
Nakaba, whose first day on the job was July 2, met many of the staff, students and parents when she attended Field Day at the end of the 2017-18 school year. Her door is always open to parents who would like to drop by, she said.
"I am absolutely committed to having children succeed," she said. "I have a firm belief that all children are different and that we have to be able to meet the needs of each student. In a very short time I will know each and every one of the kids and their parents."
Nakaba is originally from Spokane, Wash. She attended Catholic schools growing up, including the all-girls Marycliff High School. She received a bachelor's degree in biochemistry and teaching credentials from Loyola Marymount University. She then earned a master's of science and school management from Pepperdine University and her administrative credentials from Loyola Marymount.
Nakaba taught for several years in Los Angeles-area schools, including Chaminade College Preparatory School and Lycee de Francais, where she taught math and science. She was also principal of St. Eugene School, a Catholic elementary school.
She went on to serve as an assistant principal over counseling, curriculum and special education at Palos Verdes Peninsula High School, a public school, for 15 years. She did so to have greater opportunity for professional education and growth, she said.
In 2009 Nakaba moved to Eugene, Ore. to help her mother after the death of her father. There, she was principal of River Road Elementary, a public Spanish/bilingual elementary school.
"It was great and will really benefit me in helping to lead Kearns-St Ann's," she said. The school has a student population that is ethnically diverse.
Then, out of the blue, she was approached by a Buddhist Institute and asked to create an elementary school centered on the Buddhist principles of meditation and mindfulness. She jumped at the opportunity.
"Who in education doesn't want to create their own school?" Nakaba said.
It was a rewarding experience as she built the school from the ground up, writing the curriculum, hiring the teachers and creating the school's handbook, she said.
"The philosophy behind the school was to put in practice the daily living of virtues," she said. "The Buddhists very much practice the same virtues that we as Catholics practice."
After five years and with the passing of her mother in 2017, Nakaba felt ready for a change. She had friends in Salt Lake City who told her the Catholic school system here was looking for principals, so she reached out to Utah Catholic Schools Superintendent Mark Longe, who was happy to meet with her.
Nakaba previously had vacationed in southern Utah, but visited northern Utah and Salt Lake for the first time in February. She returned twice more in May and fell in love with the area, she said. She was delighted when Fr. Omar Ontiveros, who will become the parish pastor on Aug. 1, offered her the position at Kearns-St Ann School.
An avid outdoors person, Nakaba loves to mountain bike, ski, hike, camp and whitewater raft. With the ability to do four of the five within minutes of Salt Lake, "it's hard to argue with that," she said.
Nakaba said everyone she has met in the diocese so far has been very supportive, open and friendly.
Longe thinks Nakaba is a perfect fit for the school.
"She brings a wealth of experience to Kearns-St Ann School," he said. "It's my hope, and Fr. Omar's hope, that Susan will bring stability to their administration and staff and that she stays there for many years to come."
"She clearly understands the mission of Catholic education with regards to St. Ann's, which has an incredibly diverse student population," he added. "The mission of Catholic education is to provide assistance to parents in the formation of their children in all academic areas, and all religious areas."
Nakaba understands that the school has seen many changes in recent years.
"Kearns-St. Ann's has an incredible heritage and history, and I just really want to steer the ship in a way that we can continue to make great progress," she said.
The school, which was founded in 1899 as an orphanage and became a school in 1955, has 150 students, pre-kindergarten to eighth grade. The academic staff is composed of eight teachers and two specialists.
Nakaba replaces Shirley Redle, who came out of retirement for a second time to fill in as interim principal this past school year.