New program helps legal residents become citizens
Friday, Aug. 31, 2018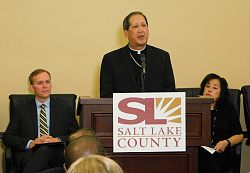 IC photo/Laura Vallejo
+ Enlarge
SALT LAKE CITY — The Diocese of Salt Lake City and Catholic community organizations are supporting a new initiative by Salt Lake County's Office for New Americans to help more than 22,000 eligible county residents become United States citizens.
United for Citizenship is an effort by community leaders across the spectrum to help those residents through that often difficult process.
"I am an immigrant to the United States," Bishop Oscar A. Solis told those in attendance at an Aug. 23 kick-off news conference. "I am especially grateful for this country that opens its doors for everyone, that opens its doors for people to realize the potential God has given them. … I am happy that Utah is so welcoming and encourage immigrants to make use of this beautiful opportunity God has given them and I invite them to become part of our cause to build bridges, harmony and solidarity among all community members. … I congratulate the new permanent residents. I hope they appreciate the people who came before them and realized their dreams and now their own beautiful opportunity to realize their dreams in the United States of America."
At the news conference, Salt Lake County Mayor Ben McAdams explained that United for Citizenship will make more readily available information about resources to help those who are eligible apply for citizenship through what they are calling "Citizenship Corners" around the community where information in blue resource legal boxes will be placed.
The boxes contain information on the path to citizenship, including lessons and civics flashcards for the naturalization test, literature on naturalization, scam warnings and a list of community resources including Catholic Community Services of Utah, as well as on helping family members obtain permanent status and guides for community organizations. The organization has also launched a new website, unitedforcitizenship.org, with information and resources to help people through the naturalization process.
"The Church is an institution of help for people of diverse backgrounds, not just for our own members but also for other faith-affiliated people and members of the broader community," Bishop Solis said after the event.
The United for Citizenship program "is a wonderful opportunity for them to know how we work with various sectors of the community and extend our collaborative efforts not only to help those in need but to be part of the life journey of every member of Utah society," he said.
Bishop Solis is himself a naturalized citizen. He first came to the U.S. in 1984 from the Philippines as a tourist, and applied for permanent resident status after he began working for the Archdiocese of Newark, N.J. While he was a pastor in the Diocese of Houma-Thibodaux, La., he was granted permanent residency. In 1999, after what he described as some "hitches and glitches," he became a U.S. citizen.
The second part of the United for Citizenship initiative encourages individuals, community members and business leaders to get involved and to sign the online pledge to support the efforts of eligible residents to become citizens.
Partners in the initiative include Catholic Community Services, Holy Cross Ministries, The Church of Jesus Christ of Latter-day Saints, Salt Lake Community College, Utah state library, Office for New Americans, Salt Lake County Library, International Rescue Committee, English Skills Learning Center, Communities United, United Way of Salt Lake, Asian Association of Utah and the Salt Lake Chamber of Commerce.
Other speakers at the kick-off event were McAdams; Sen. Jani Iwamoto; Elder Randy D. Funk of The Church of Jesus Christ of Latter-day Saints; Mikelle Moore, of Intermountain Healthcare; Dee Brewer of the Salt Lake Chamber & Downtown Alliance; and Denise Huftalin of Salt Lake Community College.
Parishes may obtain the resource boxes by contacting Jean Hill, the diocese's government liaison at 801-328-8641 ext. 336.