New St. Andrew principal encourages students to be who God means them to be
Friday, Sep. 05, 2014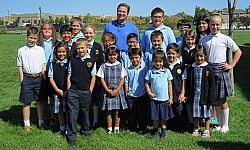 Intermountain Catholic
+ Enlarge
Saint Andrew students are on the path to 'setting the world on fire' by being who God means them to be, following the direction of Saint Catherine of Sienna and urged on by their new principal, Patrick Jefferies.
Jefferies, a graduate of Kearns-Saint Ann School and Judge Memorial Catholic High School, has an undergraduate degree in political science/economics from Gonzaga University and a Master of Science degree from the University of Utah, where he now is working on a doctoral degree in educational leadership. He is licensed in Utah in school administration.
Previously, Jefferies taught at Saint John the Baptist Middle School, and was part of Judge Memorial Catholic High School administration. He also was a teacher assistant at the University of Utah and worked in the Salt Lake City School District.
Now, as principal, Jefferies has two specific goals: increasing enrollment at Saint Andrew and ensuring that each of the school's students will be able to succeed in high school.
Utah's Catholic high schools are academically rigorous and expect that their students will attend college, Jefferies said, "so if we are doing our job properly, students from St. Andrew Catholic School don't just go to Juan Diego or Judge and do OK, they go and excel and become leaders and they are able to take advantage of that door that becomes open to an individual because of their performance in high school."
He believes the St. Catherine quote that Catholics can set the world on fire by being who they are meant to be. "That is something that I repeat to the staff that I get to work with every day," he said, adding that he is looking forward to working with the school community.
"If you take care of people that are around you, and you treat them well, and you give them what they need but expect them to be who they ought to be, good things happened. Catholic education is universal. … I want parents to know that we are their partners in their child's education; we are here to support the decisions that they are making," he said.
Jefferies is vested in the Catholics schools, said Holy Cross Sister Catherine Kamphaus, superintendent of Utah Catholic Schools. "Patrick grew up in our Catholic schools. He knows the culture and charisma of the Catholic school system."
While working for Utah Catholic Schools, Jefferies has helped select new elementary assessment tools and provide principal/teacher development, Sr. Cathy said. "He understands the importance of being current in educational issues and has a vision to keep our schools Catholic, academically excellent, safe and up to date in every way."
Jefferies thinks that sometimes people, when talking about education, lose track of the fact that the access to college makes a huge difference in people's lives.
"And access to college is determined by performance in high school, and performance in high school is determined by the development of some specific skills: Can you think in a linear logic way? Can you identify problems? Can you solve them? Can you collaborate with others? All this meaning good communication and the ability to comprehend different people and have empathy. … I started with linear logic but sometimes the solutions are outside of the box," said Jefferies. "We prepare students here to be successful in one of our very academically rigorous high schools, but that also means if, for whatever reason they choose to go somewhere else, they will do well there, too, because if you can do well at our Catholic high schools you can do well anywhere."