New senior attorney for Holy Cross Ministries
Friday, Jun. 19, 2020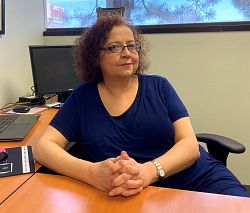 Courtesy photo
+ Enlarge
SALT LAKE CITY — Lorina Tester, the new director of Holy Cross Ministries' legal immigration program and senior attorney, had just a few weeks to acclimatize herself to her new position before the pandemic. Hired in February, she spent about a month in the office before having to transition to working from home. Tester, a Salt Lake City native, has taken the changes in stride; it's the least of those she has had to navigate in the last year or so.
In April 2019, Tester's world was sent reeling when her husband, Neal Machanic, was diagnosed with cancer. Putting her husband and family first (she has two teenage children), Tester closed her law practice in April 2019 to care for Machanic. He recently passed away.
The staff at Holy Cross Ministries has been very compassionate, Tester said. "They basically just wrapped their arms around me and said, 'We'll help you through this.'"
As she has grieved and dealt with her new reality, Tester has also had to navigate her new job, which includes overseeing a staff of eight. Despite the pandemic, Holy Cross Ministries has been providing services to its clients; Tester has directed individual case workers remotely. During this time, she has formulated goals for herself and her department.
"My personal goal is to look around and assess the things that we offer and make sure that they're still in line with the original mission of the sisters," she said. "What are the needs of the community? How can we grow? How can we plan for the needs of the next few years?"
Tester said she feels great satisfaction knowing "this is where I am needed and where I can really make a difference."
Tester grew up in Utah. After graduating from Cyprus High School, she left Utah to attend Hunter College at the City University of New York, where she majored in political science.
"I was looking for diversity and an opportunity to get to know more about all of the different kinds of people," she said.
Following that, she enrolled in New York Law School. After graduation, Tester took a position in employment law at a New York corporate law firm. She worked there until 2003, when she was offered a job at the University of Utah as associate general counsel.
Because Tester had married and become a mother, she was happy to return to Utah, where she could be close to her family, she said.
"It was one of those things where you look up and the stars in the sky align and you say, 'I guess I'm supposed to go to Utah,'" she said.
At the University of Utah, she handled immigration issues ranging from completing required government paperwork and processing visas for visiting professors and students to making sure the university was in compliance with federal regulations in those situations.
In 2010, Tester established her own law firm, expanding her work in immigration. In January, she interviewed for the position at Holy Cross Ministries.
"I decided I really needed to work for something other than business entities and instead do something good for the community," she said. "Really, my heart is in non-profits."
She began work at Holy Cross Ministries in February; it's a job she feels she has been preparing her whole life for, she said.
"Their mission is very, very different and the sisters of the Holy Cross put together the specific idea that they would promote justice; I have so much respect for the mission that goes all the way back," she said. "It's a wonderful environment."