Online course offered to strengthen marriages
Friday, Dec. 09, 2022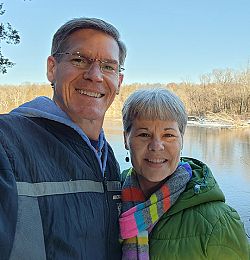 Courtesy photo/Maureen Otremba
+ Enlarge
SALT LAKE CITY — Beginning in January, the Diocese of Salt Lake City will offer an online marriage enrichment course in English to all Catholic couples in Utah. The course, based on the workbook Banquet of Love, the Eucharist as Weekly Marriage Enrichment, is intended to encourage married couples to explore their relationship to each other and to Jesus Christ through the lens of the Eucharist.
When the Eucharistic Revival was announced earlier this year, Bishop Oscar A. Solis challenged diocesan directors to make the Eucharist a central part of their programming. Crystal Painter, director of the Office of Family Life, prayed about this challenge and was led to the Banquet of Love program, which is offered by Jim and Maureen Otremba, who gave a three-day marriage enrichment workshop, "Eucharist – A Model for Marriage," in the diocese in 2012.
"It's funny how the Holy Spirit works," Painter said. "This Banquet of Love I feel was handed right over to me; I had no idea my predecessor, Viola Burchett, had already done a retreat on it in the diocese."
This new course will examine the Eucharist as a model for married life in 15- to 20-minute videos. A central feature of the course is what the Otrembas call "the foundational intimacies:" eight modes of being present to and with each other in marriage that flow from the Eucharistic liturgy. In each of the 12 sessions, the Otrembas will break down the individual elements of the Mass and apply them to marriage.
"Vatican II calls the Eucharist the source and summit of our faith," Jim Otremba said. "So, as Catholics, we can't have a more powerful prayer than the Eucharist. The Eucharist is also a powerful teacher of relationships; it can transform our marriages. If we learn the patterns of the Eucharist and apply them to our marriages, our marriages can heal if they need healing or grow if they need growth."
"If you can apply these truths from the Eucharist into your daily married life you can have an exceptional marriage," he added.
The idea for the course came early in the Otrembas' relationship, shortly after they met in graduate school. On the way to Mass one day, they were struck by the church bells pealing in the background.
"We both had this thought at that moment: no matter what happens with our relationship, whether it goes on to be a friendship or it goes on to be a romantic relationship and it turns into a marriage, we're never going to be as close as we will be in the Eucharist right now at this Eucharist," Jim Otremba said. "That was the seed of the curriculum; that was where it was planted by the Holy Spirit."
The Otrembas are excited to use this new format that allows couples to access the materials from the ease of their own home or in their parish with a trained facilitator, they said. This makes the course more accessible to younger couples who deal with such time challenges as dual careers and finding childcare, "who could really benefit from these foundational tools and practices that are going to help them communicate, help them grow in their faith, help them be better parents and spouses," Maureen Otremba said.
At the end of each lesson, reflection questions, (available as downloadable pdfs), help draw parallels between a couple's relationship with the Lord and each other. They also provide food for thought and inspiring insights to help couples navigate their daily lives as disciples of Jesus Christ. The reflection questions are specifically designed to personalize the material and to internalize, "so it's not just information but leads to transformation," Jim Otremba said.
This experience with the Eucharist is not simply a theological concept, Maureen Otremba said. "Anybody with even the most fundamental experience of Eucharist can grow more. That's what we do every time we go to Eucharist. We don't have to have it all figured out. Jesus trusts himself with us and will meet us where we are and will help us grow. This course is for everyone."
"What I love about this is there are a lot of connections to be made between marriage and the Sacrament of the Eucharist," Painter said. "The goal here was to make this course as accessible to as many couples as possible."
As part of the annual diocesan marriage celebration, which will be held at St. Vincent de Paul Parish in February, the diocese will offer a livestream session with the Otrembas.
Couples will be able to access the other individual sessions online at their convenience as they are rolled out throughout 2023. The program will be offered through 2024. While it is free, couples are asked to consider a goodwill donation for the value the program brings to them to help cover costs.
The Otrembas were married in 1995 and have three children. Jim Otremba holds master's degrees in divinity and applied psychology. He is a licensed therapist and Catholic lifestyle coach. Maureen Otremba holds a Master of Theology. They are the authors of "Fully Engaged," a Catholic, pre-marital inventory and formation program used in several dioceses in the United States.
Registration is required for the course. To receive an email with the link to register, email the Family Life Office at crystal.painter@dioslc.org. For information about the Banquet of Love course, visit www.dioslc.org//offices/marriage-and-family/banquet-of-love.