Opportunity to meet Christ in prison
Friday, Dec. 05, 2014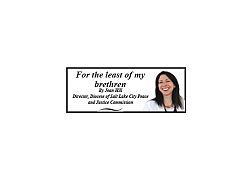 Intermountain Catholic
+ Enlarge
Imagine, for just a moment, that you are a female inmate at the Utah State Prison. If you're like 90 percent of the others, you lived in poverty before you were incarcerated. You also have a history of physical and/or sexual abuse, some form of mental illness (perhaps PTSD from the abuse you suffered), and a substance abuse problem that developed as you tried to ease your physical and psychological pain.
Now imagine your release date. As you stand at the razor-wired fence waiting to be let out, you probably don't have a family home to return to; or, if you do, only an abusive situation awaits. Thus, when you are freed from prison, one of your most immediate needs is housing.
If you're on parole, you may be taken to a halfway house. However, if no space is available there, you may have to remain in prison until a safe housing situation can be located. Safe housing may include family members agreeing not only to take you in, but also to remove any weapons or alcohol from the premises.
If you're not headed to a halfway house, you will need to find a place to rent, which may be difficult because most Wasatch Front cities participate in the "good landlord" program, which give landlords substantial breaks on city fees if they refuse to rent to anyone who has had a felony conviction within the last four years.
Inability to find housing, and thus becoming homeless, is one of the top reasons drug offenders and prostitutes return to their former crimes.
On the off chance you can find housing, you'll need to find a job quickly in order to afford the rent, plus groceries, utilities and other costs of daily living. We will assume that you received some job training and education in prison and prepared a resume while there. All you need now is interview-appropriate clothing, transportation to the job or job interview, and an explanation for checking "yes" on the "have you ever been convicted of a felony or misdemeanor" question on the application, assuming you get to the interview stage after answering yes to that question.
The needs are compounded if you, like the majority of female inmates, have children. Assuming you're able to regain custody, you will need to find housing that will accommodate the children, a job that pays well enough to support a family (which means something that pays more than minimum wage), and access to subsidized child care so you can go to work every day.
This brief exercise in imagining illustrates the mountain of obstacles that face a woman leaving prison just to meet her basic needs. Most of these women have substantial mental health needs as well.
For many, however, the most important resource just might be someone who cares and can help them navigate the world they have returned to. Fortunately, there is a growing volunteer-based mentor program for female inmates. Through this program, incarcerated women are matched with a couple or another woman who can help them find resources such as employment assistance and health care, and encourage their progress as they try to re-establish themselves in our communities, including our parishes. Mentors need not have any particular skills, other than a willingness to make phone calls and help women in prison develop plans for meeting short and long-term needs, and help the women access resources like housing and employment once they are released.
Though somewhat frightening at first, stepping inside the prison gates to talk with an inmate and help her see the possibilities for a life with healthy relationships and habits will change your life for the better as well. To learn more about the mentoring program, please contact me at jean.hill@dioslc.org and start meeting Christ in prison.
You will never be the same.