Our Lady of the Snows celebrates 20 years of Masses for skiers at Alta
Friday, Jan. 24, 2014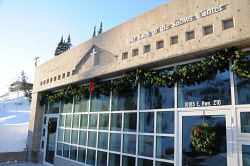 Intermountain Catholic
+ Enlarge
ALTA — Hitting the slopes, then attending Mass as the sun sets over the mountains is the prescription for a perfect Sunday for Catholic skiers – one that's filled every week during the ski season at Alta, which has been home to Our Lady of the Snows Center Station since the 1960s.
"I remember the first time I saw this structure, I thought, 'now that's amazing. There's a Catholic chapel in the middle of the mountains.' That spoke to me," said Toni Ausum, who has been coming to Alta from Ann Arbor, Mich. during the ski season for about 10 years.
This season, Our Lady of the Snows celebrates the 20th anniversary of its "new" building. The original chapel was a wooden A-frame that was destroyed in 1983 by an avalanche. The current structure was designed with this in mind.
"The reason the building is flat-roofed and tucked up against the mountain is so that an avalanche, should it occur there, would essentially just go over the top of it," said Michael Stransky, president emeritus of GSBS Architects, who designed the structure. "I think that this building is very much complimentary to Alta, using very simple materials, using reinforced concrete and glass, and that's about it."
The interior is intentionally as austere as the exterior, with a cement floor and no permanent icons. Although the building is owned by the Diocese of Salt Lake City the land is owned by the National Forest Service, and the land lease conditions call for the building to be used as a community center as well as a chapel.
"It's not inordinately ornate. It's respectful of its Catholic space but it's also respectful of the fact that it's a community building," said Stransky, a Cathedral of the Madeleine parishioner.
"It's used by multiple entities" for everything from the annual ski swap to dances to town meetings, said Alta Mayor Tom Pollard. "The Catholic Church allowing us to use the building as a multi-use building up here is a great asset to our community. In our community right now it's probably the only stand-alone building that you can hold events in, from a staff meeting to a wedding."
Pollard, who also manages the Rustler Lodge, said his guests who are Catholic appreciate having the chapel nearby. "They come back every year, and they love to see Fr. John [Norman]. It's an amenity that we can offer as our community that people appreciate."
Those who work at Alta also are grateful to be able to attend Sunday Mass without driving down the mountain, said Pollard. "You see the same people at Mass all the time during the season … My children received their First Communion there."
Mass is celebrated at Our Lady of the Snows each Sunday during the ski season, which runs from about Thanksgiving to about Easter, depending on the snowfall. The Blessed Sacrament is not reserved there and there is no music ministry, altar servers or deacons. Each week, volunteer lectors are sought from those attending the service.
"It's a bare-bones celebration of the Eucharist," said Father John Norman, who has been the sacramental minister for the station for more than 30 years. "There's a spontaneity and a simplicity to the Eucharist there that is hard to find anywhere else."
Fr. Norman has continued his ministry at Our Lady of the Snows even as his regular assignments switched from associate pastor of Saint Vincent de Paul Parish in Salt Lake City to principal of Saint Joseph High School in Ogden to pastor of Our Lady of Lourdes in Magna.
"I've done it for all those years because there's no better way to start the week than to gather with that community there and celebrate the Eucharist," he said. "It was never an event that took away my energy, but rather added to it."
Fr. Norman has no memories of the original chapel, he said, although he does remember celebrating Mass in the town library after the A-frame was destroyed.
"We used the magazine table as the altar, and we just moved chairs so people could sit down," he said.
Much of the rebuilding effort was due to Joan Collins, "an Alta original," Fr. Norman said. "She was known for years as the Catholic lady of the canyon, and she was our on-site person, who oversaw the property and made sure everything was safe."
Collins died in a ski accident, and "as a result of her sad death, a lot of people made donations to the chapel project in her name in fulfillment of her dream to have a new chapel there," Fr. Norman said.
Then Kathleen Grisley Forsey became involved with the rebuilding effort. Her sons were young at the time, and Alta was a Sunday destination for her and her sons, she said.
"I'd go up, take them skiing, and then we'd go to Mass and come back down the canyon," she said. "It was a great Sunday."
When Fr. Norman asked her to take on the re-building project, she agreed, even though it meant three years of not only fundraising but also coordinating the needs of the diocese, the town, and the Forest Service.
Despite some concerns from people who worried about mixing church and state regarding the multi-use building, "It was a really good experience," Grisley Forsey said. "I made lifelong friends; I've watched all kinds of great events occur in that building."
She enjoys attending Mass there, she said. "In my mind, it's a parish. People are very welcoming."
About 80 percent of those attending Mass on any given Sunday at Our Lady of the Snows are out-of-state visitors, said Paul Lippert, who serves as the facility's caretaker. Like Grisley Forsey, he enjoys the camaraderie of those who attend the Eucharist.
Being able to walk into Mass wearing ski boots is wonderful, said Matt Snyder of McConnellsburg, Penn., who attended Our Lady of the Snows on a recent Sunday after spending the day, "from 9:15 until now," on the slopes. "It's very convenient, because my family's really devout, and if we miss a week then we have to go to Confession, and I don't really want to do that," he said. "It makes it nice that it's right here on the slopes."
Likewise, Bill Montana from Greenwich, Conn., appreciates having "such a great opportunity to be able to come and share God's love and share the skiing and have everything all in one great day, so you don't have to choose. Alta is my happy place," he said, adding that he and his family have been coming out for about for 12 years.
For Mark and Mary Schmidt, a ski vacation at Alta is a yearly family tradition. Mark Schmidt first visited as a teenager with his parents in 1978. Now, he and his wife and children come from Schenectady, N.Y. each year, and enjoy seeing Fr. Norman and adding to their memories, he said.
"I'm glad we can offer Mass at Our Lady of the Snows for the skiers who come out," said the Most Rev. John C. Wester, Bishop of Salt Lake City. "It's nice that people can be traveling far from home and have such a wonderful ability to be part of a believing community to worship God on Sunday."