Parishes asked to plan to celebrate World Meeting of Families
Friday, Feb. 18, 2022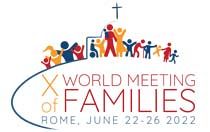 Dicastery for Laity, Family and Life
+ Enlarge
SALT LAKE CITY — This year, for the first time, parishes are being asked to hold events in conjunction with the World Meeting of Families.
Pope John Paul II instituted this worldwide event in 1994. It has been celebrated every three years since then but was postponed last year because of the pandemic. Previous events saw people from all over the world attend the event, which is organized by the Vatican's Dicastery for Laity, Family and Life to promote the pastoral care of families.
This year, the 10th World Meeting of Families will be celebrated June 22-26 in Rome. Because of the ongoing pandemic, it will be "for invited guests only – primarily representatives of episcopal conferences and ecclesial movements," states the U.S. Conference of Catholic Bishops. "In place of the public worldwide gathering, the Vatican is strongly encouraging that all dioceses, with their local bishops, celebrate the World Meeting by gathering families for a customized, local experience of formation, prayer, and fellowship."
On June 25, Pope Francis will celebrate the World Meeting of Families Mass in St. Peter's Square at 6 p.m. Rome time, which is 10 a.m. local time. The Mass will be livestreamed as well as taped for later viewing.
The Diocese of Salt Lake City's Office of Marriage & Family Life is already preparing to help local parishes create their own celebrations to mark this event.
"This is an exciting opportunity for all the people of God in our diocese to come together as a parish family to growing our faith, pray together and celebrate in solidarity with our Holy Father," said Bishop Oscar A. Solis in a video message. "Each parish can choose a format that works best for their respective community. I ask you to please support your pastor by asking how you can help plan and coordinate this event at your parish."
The goal of the local event will be "To bring awareness about the importance of the vocation of marriage and family life through prayer, catechetical Church teachings, and celebrations impacting families, neighborhoods and society," said Crystal Painter, director of the Office of Marriage & Family Life.
The event would also be an opportunity to further build the parish community and begin or continue to develop Marriage & Family Ministries in the parish, she said.
Bishop Solis said he thinks God has provided the World Meeting of Family events, as well as the Synod of Bishops listening sessions and the upcoming Eucharistic Revival, "in order to see to it that we do something to regenerate interest and life of our parishes, the faith communities, especially during these days."
The events will take effort, he acknowledged, but said they will bring back the vibrancy of parish life.
Many resources are available to parishes to help them plan and put on their own event. A pastoral kit and catechesis are available in English, Spanish, Italian, French and Portuguese on the Rome World Meeting of Families website, https://www.romefamily2022.com/en/wmof-diocesi/.
Bishop Solis' message to the diocese about the World Meeting of Families may be found in English and Spanish on the diocesan website, https://www.dioslc.org/world-meeting-of-families.