Parishes continue suicide prevention efforts
Friday, Jun. 21, 2019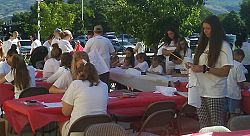 Intermountain Catholic/Laura Vallejo
Photo 1 of 2
OREM — Dozens of people from different faiths gathered June 15 at Saint Francis of Assisi Catholic Parish in Orem to participate in a suicide prevention faith walk.
The event was organized by Hope4Orem as part of the festivities of the Orem Summer Fest.
This was the second year that the walk started at the Catholic church, which opened its doors to the walk because "faith and religion can be a preventive factor and we want to be a community of support," said Angela Robles, a St. Francis of Assisi parishioner who was in charge of the logistics of the walk from the parish side.
Hope4Orem started in January 2018 as a suicide awareness and prevention movement. The state of Utah has a high suicide rate, and more prevention can always be done, said Janis Lindley, the event organizer.
Participants walked from St. Francis of Assisi Catholic Church to a nearby ward of The Church of Jesus Christ of Latter-day Saints, and ended at Orem Community Church.
Having the walk start, stop at and end at different faith landmarks is important because "in a faith-based community, no matter what the religion is, you have got a community of support," said Robles, adding that this event is particularly important for her. She participated in last year's walk, too.
"I did it because I feel very close to what having a suicidal child means," she said.
Roble's child experienced a profound depression, which led him to consider suicide, she said.
"It was very difficult. We tried to search for medical help, but the soonest appointment we could get was in six months. … My son needed the help immediately," Robles said.
Not knowing of any other available resources, Robles kept looking for medical attention for her child.
"We finally got hold of a new doctor who was taking new patients, so I took him in, but that was the only thing I could do at the moment and it was really hard to see him that depressed," Robles said.
One objective of the Hope4Orem walk is to raise awareness of the availability of suicide prevention materials in English and Spanish for parents to use to guide their children, and provide information about what they can do and where they can go for help.
"I wish I had all this information available when we needed it, but now that it's out there we need to share it so whoever needs it can access it," Robles said.
After his experience, her son has become an advocate for suicide prevention, too.
For his most recent birthday, instead of presents he asked for donations for the National Suicide Prevention Lifeline, a 24-hour, toll-free, confidential suicide prevention hotline available to anyone in suicidal crisis or emotional distress. By dialing 1-800-273-TALK (8255), the call is routed to the nearest crisis center in a national network of crisis centers that provide counseling and mental health referrals day and night.
"I've chosen this nonprofit because their mission means a lot to me, and I hope you'll consider contributing as a way to celebrate with me," he said in the online message requesting the donations.
This is only one effort that parishes around the Catholic Diocese of Salt Lake City are doing to educate people about suicide prevention. In April, Junuee Castro, director of the diocesan office of Youth and Young Adults Ministry, organized a workshop for teens and their parents.
In March, St. Martin de Porres Parish in Taylorsville, started providing informational presentations on the last of Sunday of each month at 12:15 p.m.
Also, on Monday, June 24, from 7 to 9 p.m. the "Life is Worth Living" seminar will be presented at St. Marguerite Parish's social hall, 15 S. 7th St., Tooele by Knights of Columbus Council #6739. This presentation is free and open to the public.
Suicide Prevention Resources
– Utah Suicide Prevention Coalition: https://utahsuicideprevention
– University of Utah's Crisis, Chat & Tip Line: https://safeut.med.utah.edu
– Statewide crisis line: 801-587-3000
– Suicide Prevention Resource Center: http://www.sprc.org/states/utah
– National Suicide Prevention LifeLine: 1-800-273-8255