Pastor Assignments Take Effect July 28: Fr. Gustavo Vidal
Friday, Jul. 23, 2021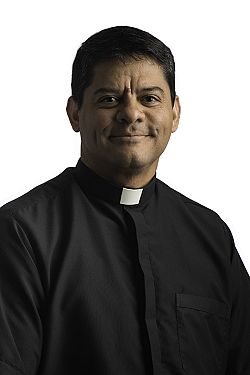 Diocese of Salt Lake City
+ Enlarge
On July 28, 10 priests in the Diocese of Salt Lake City will assume their duties as either pastor or administrator of a parish, or as chaplain, to which they have been newly assigned. Following are brief profiles of five of these priests; profiles of the other five were published in the July 9 Intermountain Catholic:
Fr. Gustavo Vidal
Fr. Gustavo Vidal, a native of Colombia, attended the Universidad Santiago de Cali in Colombia and spent three years in the Congregation of Jesus and Mary – a religious order founded by St. John Eudes – and studied at a seminary in Bogota before entering Mt. Angel Seminary. He was ordained June 28, 1997 by the Most Rev. George H. Niederauer, Archbishop emeritus of San Francisco and eighth Bishop of Salt Lake City.
His first assignment after ordination was as parochial vicar of St. Joseph Parish (Ogden). He also has served at the Cathedral of the Madeleine, St. Francis of Assisi, St. Elizabeth and its associated missions, St. George, San Pablo Mission and St. Mary. Special assignments include a term as Diocesan Consultor and Dean of the Wasatch Deanery.
On July 28 he will begin as pastor of Our Lady of Lourdes Parish (Magna).
What would you like your new parishioners to know about you?
That I am from Colombia, all my family is there. I am 55 years old. I have a brother, three sisters, one niece and three nephews.
What are you looking forward to most about your new assignment?
I hope to be able to share the Gospel, God's message of salvation. That's why I was ordained, to share the Good News.
As a priest, what has been your greatest challenge?
This is a very good question. Life is full with challenges. After almost 30 years living in the United States, I still find hard to be away from my family, my culture.
As a priest, what has been your most satisfying experience?
I have had many satisfying experiences through my priesthood life. I think that one of the most is celebrating the sacraments, being with the people of God in their weddings, baptisms, quinceañeras, funerals … being there every Sunday showing them the way to Jesus, our true savior, creator of all life.