Pastoral planning process unveiled
Friday, Oct. 03, 2014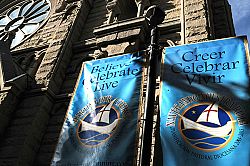 Intermountain Catholic
+ Enlarge
SALT LAKE CITY — With 500 Catholics from throughout Utah gathered at the Skaggs Catholic Center for the 2014 Diocese of Salt Lake City Pastoral Congress, Bishop John C. Wester announced the kick-off of the Pastoral Plan.
The Pastoral Plan process is intended to allow local Catholics a chance to discuss the Church in Utah and to plan for the future, Bishop Wester said.
The plan, called 'Charting Our Course,' "is meant to cast light on what we're about; to invite the light of Christ's resurrection to illuminate us and for the Holy Spirit – the Paraclete – to guide us in this process," Bishop Wester said in his homily at the Mass celebrated at the Pastoral Congress.
"A diocesan pastoral plan establishes a Christ-centered vision for our diocese," states the Charting Our Course website, www.prayerfulplanning.com. "The plan reflects the vision and hopes of the bishop, the principal shepherd and teacher of the Catholic community in the diocese, but it is arrived at in community. We are living in a time of many changes and transitions. It is vital that we as a Church community come together, talk about who we are as church, and how we can work together as we move into the future. …"
As part of the plan, which is expected to be in place next year, Bishop Wester invited all Utah Catholics to attend a listening session or complete an online survey.
"To arrive at an excellent Pastoral Plan, it is vital to hear from all Catholics in our diocese," the bishop said in his video message, which was played at the congress and can be viewed on the website.
The survey's 83 questions cover a range of issues, from the role of the Catholic Church in Utah to religious education to parishes' hospitality and their ability to meet the needs of youth.
At the listening sessions, which will be conducted by trained facilitators, the dialog is intended to focus on five areas that Bishop Wester has identified as priorities: multicultural ministry, youth and young adult ministry, vocations, the preservation of the Cathedral of the Madeleine, and lay ecclesial ministers. Other topics may arise, but the discussion will be limited to issues that are within the purview of the local bishop and diocese; matters of Church doctrine or theology will not be on the table.
In addition to the planned listening sessions, others may be scheduled; updates will be printed in this paper. The sessions are expected to be completed by the end of November.
For information or to take the online survey, visit the website, www.prayerfulplanning.com.
The following listening sessions for the Pastoral Plan are scheduled. Some are open only to members of the group; the open sessions are noted.
English sessions:
Knights of Columbus: Oct. 20, 6:30 – 8 p.m., St. Martin de Porres Catholic Church, 4914 South 2200 West, Taylorsville
Logan area (open session): Oct. 14, 6-7 p.m., St. Thomas Aquinas Catholic Church, 725 South 250 East, Hyde Park
Ogden area (open session): Oct. 26, 4-5:30 p.m. in English, St. Joseph Catholic Church, 514 24th St., Ogden
Diocesan Council of Catholic Women: Nov. 1, 10 a.m. – 2 p.m. St. Francis of Assisi Catholic Church, 65 East, 500 North, Orem
Diocesan Pastoral Council: Nov. 1, 1-2:30 p.m., Cathedral of the Madeleine, 309 E. South Temple, SLC
Spanish sessions:
Ogden area (open session): Oct. 12, 6-7:30 p.m. in Spanish, St. Joseph Catholic Church, 514 24th St., Ogden
Logan area: (open session): Oct. 14, 6-7 p.m., St. Thomas Aquinas Catholic Church, 725 South 250 East, Hyde Park