Paul Anton Van Dyck D.C.
Friday, Mar. 30, 2012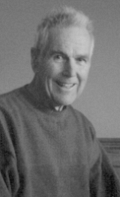 Intermountain Catholic
+ Enlarge
SALT LAKE CITY — Paul A. Van Dyck, 89, passed away March 22, 2012 in his home in Holladay.
Van Dyck was born June 4, 1922 in Des Moines, Iowa to Paul R. and Josephine Van Dyck. He served with the 4th Marine Division in the South Pacific in World War II. He married Wilma Sue Stroud in August of 1948.He was also a member of Saint Vincent de Paul Parish.
Van Dyck is preceded in death by his parents; brothers James and Dennis and his sister, Rose.
Van Dyck is survived by his wife; daughter Rebecca Van Dyck; four grandchildren and two great-grandchildren.
A funeral Mass was celebrated at Saint Vincent de Paul Catholic Church.