Pauline Ruzinski
Friday, May. 18, 2012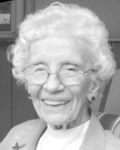 Intermountain Catholic
+ Enlarge
SALT LAKE CITY — Pauline Ruzinski, 95, passed away May 6, 2012.
Ruzinski was born in Detroit, Mich. on June 28, 1916 to Joseph and Mary Czubik Lesiak. She married Alex Ruzinski in 1948 in Ann Arbor, Mich. She was a member of the Immaculate Conception Catholic Church in Milan, Mich. for 45 years and a parishioner of St. Ambrose in Salt Lake City for the past 17 years.
Ruzinski is survived by daughter and son-in-law Mary and Kent Golic; son John Ruzinski and his partner Elaina Johnson; sister-in-law Florence Lesiak; brother-in-law Louis Berns and several nieces and nephews.
Ruzinski was preceded in death by her husband; daughter Catherine Schwimmer; brothers Joseph, Walt and Alex; and sisters Charlotte Campbell and Clara Berns.
A memorial Mass was celebrated at the Immaculate Conception Church in Milan, Mich.