Perpetual adoration begins in Utah
Friday, Mar. 26, 2010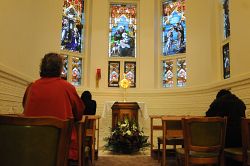 IC photo by Marie Mischel
+ Enlarge
OGDEN - The faithful kneel in a small room on the east side of Saint Joseph Catholic Church, sometimes singly, sometimes in pairs or small groups. They can be found in that circular room at all times, determined to keep watch from sun up to sun down and through the night, maintaining perpetual adoration of the Blessed Sacrament.
While various parishes in the Catholic Diocese of Salt Lake City undertake adoration for certain periods, the new chapel in Ogden is the first to be dedicated to perpetual adoration. Until last Friday, Utah was the only state in the union without at least one such chapel.
Establishing perpetual adoration was a challenge, said Joan Opheikens, a St. Joseph parishioner and co-captain of the team that undertook the effort. Each week they need 168 people to cover one-hour shifts 24 hours each day. Three hundred fifty people have signed up, but the goal is to have two people on each shift, so "it's not exactly where we want to be yet."
The idea for perpetual adoration at the parish started several years ago with parishioner Sue Taylor, said Fr. Kenneth Vialpando, pastor of St. Joseph, but the first efforts at establishing the practice failed. However, on March 19 - the solemnity of the parish's patron saint - the chapel opened.
The date was particularly appropriate, Fr. Ken said, because St. Joseph has the honorary title of Adorer of Adorers. After the angel visited Joseph and told him to take Mary into his home because she had conceived by the Holy Spirit, "from that point on Joseph began his perpetual adoration," Fr. Ken said in his homily during the Mass celebrating both the feast day and the opening of the chapel. "May we, like St. Joseph, know the meaning of keeping watch with Christ, standing guard by Christ ... by adoring and worshiping him in the presence of the Blessed Sacrament, not only one hour on the weekend, but 24 hours a day, seven days a week."
The perpetual adoration is a way for the parish to unite, Fr. Ken said. "It's a combined effort from both communities, the English and the Spanish speaking." With six weekend Masses, three in each language, "it's hard for us to come together, not because there's any animosity but because of the language, and so it's a way for us to pray together in silence, being united with the body and blood of Christ."
The chapel contains kneelers crafted and donated by parishioner Keith Norrell; the altar was made by Deacon Tom Tosti of Saint Mary of the Assumption in Park City.
Despite the obstacles to establishing perpetual adoration, blessings such as strengthened marriages, increased vocations and reduced crime rate make it worthwhile, said Jesse Ricardez, the other team co-captain. "The things of God never come easy ... [but] 24/7 perpetual adoration, I think, is going to be tremendous blessings for the whole diocese, not just our church."