Priest is named Prison Ministry Volunteer of the Year
Friday, Feb. 05, 2010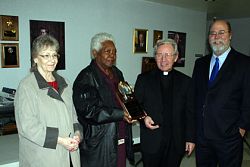 IC photos by Christine Young
+ Enlarge
OGDEN - Father Jan Bednarz, pastor of Saint Martin de Porres Parish, Taylorsville, was surprised to be selected as this year's Volunteer of the Year at the Father Thomas J. Kaiser Award Banquet for ministers who visit incarcerated youth and adults. The banquet was held at Javier's Restaurant in Ogden Jan. 30.
The volunteers of the juvenile detention and jail ministry and the Catholic Diocese of Salt Lake City presented a plaque recognizing Fr. Bednarz's seven years of dutiful visitations to the jail. "I know the inmates can't be here to tell you 'thank you, Father,' but they love you and they look forward to seeing you every Saturday," said Illa Wright, Catholic ministry for incarcerated youth and adults coordinator. "Thank you for your hours of service, love and spiritual guidance you have given to the incarcerated youth and adults."
"Many miracles happen at the county jail," said Fr. Bednarz. "Not only does spirituality grow at the jail, but people who are not Catholic also appreciate what we do. They need to be evangelized as well. All of these people need Christ."
The banquet is held each year as close as possible to January 27, which was named Fr. Thomas J. Kaiser Day in 2001, Wright said.
"Fr. Kaiser, who died in 2008, was a saint," said Dave Howa, a member of Saint Catherine of Siena Parish and Newman Center and a jail ministry volunteer. "Fr. Kaiser prayed all four decades of the rosary and celebrated Mass every day. Even after he retired at Christus Saint Joseph Villa, he continued to celebrate Mass in his room. Many years ago, he said he needed a ride to the detention center. About 20 kids were there, and he began to hear confessions in the back and left me outside to talk with them. The kids loved him. I didn't want to go, but I got hooked. Fr. Kaiser would go twice a week to hear confessions and celebrate Mass with the kids, as well as visit the incarcerated in the jails. He was a giving person."
Mike Singletary, a member of Blessed Sacrament Parish, has been a jail minister for five months. "I am always greeted with an unexpected openness from the inmate," he said. "The environment and their attitudes tend to make me feel more centered in my own beliefs."
Tim Ford, a jail minister for many years, said he feels the Holy Spirit more when he is visiting with the incarcerated than any other time.
Carol Dillingham, a nine-year volunteer, said this ministry has really helped her in her life`. She has a granddaughter who was addicted to heroine. "Going through her addiction has calmed me," she said. "I can now talk with the inmates, who also suffer from addictions, and I can now reach my granddaughter."
Chief Deputy Sheriff Harry Thompson of the Weber County Jail said there are many wonderful people who have made some mistakes in their lives. "Sometimes when we talk with them, we are not sure we have made a difference, but God knows."
Thompson shared the story of a man who was about to commit suicide, but saw Thompson's patrol car and made a U-turn. The man was shaking as he reached for a gun on the floor. He said he was in trouble. Thompson got the gun away from him and began talking to him for hours. Just talking to the man, who was earlier that evening going to commit suicide, gave him hope. He then knew someone cared.
"That is what you do in your ministry," said Thompson.
Sheriff Brad Slater from the Weber County Jail said this ministry needs more volunteers because sometimes the uniforms they wear turn people off, as does the legalistic work they do. "We may not be able to be that bridge the inmates need to get back out into society," said Slater.
"Sometimes people find God in jail, or the only time they get to share their faith is in jail," he said. "And even if it is only for a short time while they are incarcerated, they can be a better person for it. I've seen people turn their lives around because volunteers took the time to get to know them and share their faith with them."
"The message I have heard thoughout this banquet is hope," said Deacon Manuel Trujillo, the Davis County jail coordinator. "That is the message I take to the inmates when I go there to visit them. Without hope they would not make any progress."
Deacon Trujillo said volunteers can bridge the gap between the inmate and the correctional officer because the inmates feel they are hated. Deacon Trujillo said they just made bad choices.
"Thanks be to God and to all of you volunteers of Decker Lake, Salt Lake Valley Detention Center, Salt Lake County Oxbow Jail, Wasatch Detention Center, and Weber County Jail. God knows your name, and he has called you," said Wright.