Pro-life Silver Rose to visit Utah parishes
Friday, Jun. 11, 2021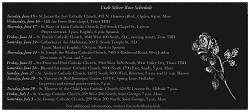 Intermountain Catholic
+ Enlarge
Several Utah parishes will host the exposition of the Knights of Columbus Silver Rose from June 15 to July 3.
The Silver Rose program, which is a pro-life effort, began in 1960. The Columbian Squires, a youth organization of the Knights of Columbus, wanted to remember Our Lady of Guadalupe by transporting a rose to the Basilica of Our Lady of Guadalupe in Monterrey, Mexico in honor of the miracle of roses presented to Juan Diego by Our Lady in 1531 as a witness of her apparition. A live rose from London, England that had been blessed by Bishop John C. Cody was carried by the Squires to New York, then Texas, and then on to the Basilica.
Two years later, the Squires of Monterrey had a silver rose made for the pilgrimage, originally named Operation Rose. In the years since, beginning in March, silver roses shepherded by Knights of Columbus councils have taken eight separate routes from Canada to Mexico. All the roses arrive at the Basilica on Dec. 12, the Feast of Our Lady of Guadalupe.
Last year, due to the pandemic, the running of the roses was not held. This year, because some states still have pandemic restrictions, not all of the traditional routes for the roses are being followed. For example, the Utah Knights will receive their silver rose by mail from Canada and will hand it off in Colorado, said Mark Meredith, a member of St. George Parish who has been chairman of the Utah Silver Rose for the past five years.
In Utah, each parish will celebrate a Mass and/or a bilingual (English and Spanish) prayer service and rosary, which will promote the dignity of all human life and honor Our Lady. There will be an opportunity afterward for veneration of the rose, which will be displayed on the altar.
"I think it does make a difference," said Meredith of the silver rose campaign, which the Knights refer to as faith in action as it relates to pro-life. "It's all about prayer; it's a solemn time to pray with Our Blessed Mother Mary of Guadalupe, to pray for the unborn and to pray for the world."
The silver rose campaign is very well received in Utah, especially among the Hispanic community, Meredith said. "They understand what the rose is all about."
Silver Rose Schedule
Tuesday, June 15 – St. James the Just Catholic Church, 495 N. Harrison Blvd., Ogden, 6 p.m. Mass
Wednesday, June 16 – Hill Air Force Base chapel, Time TBD
Thursday, June 17 – St. Rose of Lima Catholic Church, 210 South Chapel St., Layton. Prayer services: 5 p.m. English, 6 p.m. Spanish
Friday, June 18 – St. Patrick Catholic Church, 1040 West 400 South, SLC, evening rosary, Time TBD
Saturday, June 19 – Cathedral of the Madeleine, 309 E. South Temple St., SLC, 5 p.m. Mass in English; 7:30 p.m. Mass in Spanish
Thursday, June 24 – St. Joseph the Worker Catholic Church, 7405 S. Redwood Road, West Jordan, Devotions at 9 a.m. and 7 p.m.
Friday, June 25 – Sts. Peter and Paul Catholic Church, 3560 West 3650 South, West Valley City, Time TBD
Saturday, June 26 – Blessed Sacrament Catholic Church, 9800 South 1700 East, Sandy, 5 p.m. Mass
Sunday, June 27 – St. Andrew Catholic Church, 11835 South 3600 West, Riverton, 8 a.m. and 11 a.m. Masses
Tuesday, June 29 – St. Vincent de Paul Benvegnu Center, 1375 E. Spring Lane, Holladay. In-person and virtual prayer service, 7 p.m.
Tuesday, June 29 – St. Therese of the Child Jesus Catholic Church, 624 W. Lennox Street, Midvale. 7 p.m.
Friday, July 2 – St. George Catholic Church, 259 West 200 North, Saint George, 7 p.m. Mass
Saturday, July 3 – Saint George Catholic Church, 259 West 200 North, Saint George, 5 p.m. Mass
For more information, contact the parish.