Ramona Katherine Rochford
Friday, May. 18, 2012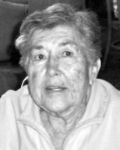 Intermountain Catholic
+ Enlarge
SALT LAKE CITY — Ramona Katherine Rochford, 88, passed away May 11, 2012.
Rochford was born March 30, 1924 to Jonathon and Flora Killpack in Huntington. She married Ed in May 1947. After Ed's death, she met and married Edmond 'Rocky' Rochford in 1977.
Rochford is survived by her husband; sister Hanna Beesley; Patrick (Debbie) Shea; Cathy (Michael) Clark; Barbara (Gerry) McEntee; Edmund Patrick (Linda) Rochford; Jim (Terry) Rochford; Missy Muench and numerous grandchildren and great-grandchildren.
A funeral Mass was celebrated at Saint Catherine of Siena Newman Center.