Red rock country keeps priest in his golden years
Friday, Apr. 15, 2011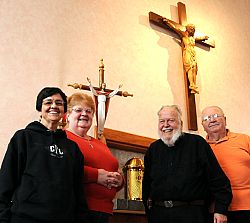 Intermountain Catholic
+ Enlarge
PAYSON – Jesuit Father Joseph S. Rooney first sought southern Utah's stunning scenery 20 years ago when he volunteered to fill in for Diocese of Salt Lake City priests who were taking vacations.
At the time he was a physics teacher at Fordham University in the Bronx and didn't teach classes in the summer. Many religious order priests who teach spend their summers helping in parishes, but Fr. Rooney admits that his reason for coming to Utah wasn't entirely to fulfill the Jesuit motto: "For the greater honor and glory of God."
"My motivation was, give me some apostolic work to do, but my hobby is photography, and this is a pretty state for taking pictures," he said.
What he saw through the camera lens and in the people he served brought him back the next year, and the next, and the next.
"We always welcome these visiting priests," said Monsignor J. Terrence Fitzgerald, the diocese's vicar general. "As is pretty evident, we don't have sufficient native priests to fill the needs in Utah, so we have a number of priests come in from elsewhere. We try to get the religious order priests to cover places that would be difficult to cover ourselves."
During his years as a visiting priest, Fr. Rooney served at almost every parish in southern Utah. Then, after 30 years of teaching, he chose to retire to the Beehive State.
In making the decision, he spoke with his provincial in the Society of Jesus, who agreed that Fr. Rooney could help in the Diocese of Salt Lake City for a couple of years.
"And so here it is 14 years later and that 'couple of years' is still going," Fr. Rooney said with a laugh.
Msgr. Fitzgerald said Fr. Rooney brings to Utah not only his faith, but also enthusiasm. "He certainly has the interest and the well-being of the people at heart and is willing to work for them," he said. "I find him very generous in terms of responding to the needs of the people."
Fr. Rooney's first permanent assignment in Utah was as parochial administrator at Saint Pius X Parish in Moab and Saint Joseph Parish in Monticello. In 2004 he was named pastor of San Andres Parish in Payson along with its associated mission parishes, a position he continues to hold.
At the time Fr. Rooney was assigned to San Andres, the parish didn't have a resident priest.
"We're very grateful to have him; otherwise, we probably wouldn't have a priest," said Geena Villegas, a San Andres parishioner, adding that she enjoys his homilies because he always ends them with a question that she ponders over during the rest of the week.
Fr. Rooney also conducts the RCIA program. He is a very knowledgeable teacher who makes everyone in the class feel at ease and orchestrates lively discussions, Villegas said.
In addition, Fr. Rooney began a second Sunday Mass to accommodate the growing congregation, opened the church to an AA meeting and encouraged youth activities, said Suzanne Vasquez, another parishioner. "I don't think we've ever gone to Father with a suggestion or a need that he has not been super-supportive," she said.
Although at 77 he is past retirement age, he continues working because "I'm supposed to be, just by my vows as a Jesuit, a person for others," he said. "Eventually my health will force me out of it, but until that time occurs, there's no reason why I shouldn't do it."
Besides, "there's an apostolic need," he said, pointing out that there are 278 registered families in his entire parish, which extends from the southern end of Provo to Nephi. By contrast, there are about 200 Church of Jesus Christ of Latter-day Saints wards in the area; each ward has about 200 families.
"There's a need for a Catholic priest here," said Fr. Rooney, who grew up in what he describes as a "well-functioning Roman Catholic family in a Roman Catholic environment" in New York City. His parish boundaries were only four blocks by 10 blocks, but his 5th-grade confirmation class had almost 150 students, and 35 priests who had graduated from the local Catholic high school attended his parish's 50-year reunion, he said.
His father was a pediatrician, and his mother, before marrying, was a high school teacher. "Service to others was always in the family," he said.
Both of Fr. Rooney's older brothers are Jesuit priests; he himself entered the novitiate a year after graduating from high school.
"I had a master of novices who always used to say that vocations came from the family; there's a certain amount of truth to that," he said.