Refugees celebrate high school graduation
Friday, Jun. 24, 2016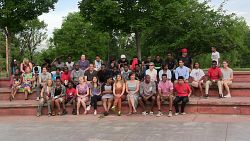 IC photo/Laura Vallejo
+ Enlarge
SALT LAKE CITY — Six recent high school graduates who are part of Catholic Community Services' refugee foster care program were honored at a gathering at Jordan Park in Salt Lake City.
For almost 30 years CCS has provided specialized foster care service for hundreds of refugee children from all over the world who come to Utah without their parents or a guardian.
On June 10, five Real Salt Lake players joined the recent graduates, celebrating with them their accomplishments and sharing stories. One of the players, RSL defender Phanuel Kavita, is also a refugee; he and his family arrived in Utah in 2000, when he was 8 years old.
"It's not the easiest, especially for these kids. They came here alone, and I can't imagine how tough that is for them," Kavita said. "I came with family, which was a blessing."
Kavita, who was born in the Democratic Republic of the Congo, was happy to share some time with the refugee children because for him that was an opportunity to meet refugee youths from all over the world, "and I get to speak my language," he said.
Kavita shared his story with the graduates telling them that he attended Highland High School and earned his way onto a professional soccer team.
He also had some advice for the graduates: "Always work hard, and never give up your dreams, work hard in school. It opens so many opportunities in life."
Among those hearing that advice was Patrick Aime, who came to Utah from a refugee camp in Rwanda.
"Graduation was pretty fun," said Aime, adding that he was excited about being able to talk with Kavita.
Most of the refugee foster care children who are high school graduates this year will continue their education at Salt Lake Community College, although one graduate received an appointment to the U.S. Air Force Academy.
Another, Yasin Rezaei, wants to use his language skills in the Army. Originally from Pakistan, he fled to Indonesia and attempted three times to travel by boat to Australia. In 2014, at the age of 17, he was finally resettled to the United States.
Youth in CCS' refugee foster care program's legal custody entered the United States without their parents or other adults to care for them. The program serves minors who are refugees, asylees, Cuban/Haitian entrants, special immigrant juveniles and victims of human trafficking. They can remain in the program until they are reunited with their families or until they turn 21.
The minors who participate in the CCS foster care program are placed in foster care homes or group homes appropriate to their developmental needs. All youth receive the same services as children in the State of Utah's foster care program until they turn 21.
The types of services available through this program include: financial support for housing, food, clothing, and other necessities; medical care; case management; independent living skills training (budgeting skills, housing, food preparation, social and legal system, transportation, education and community resources); education/ESL/tutoring; job training and career/college counseling; mental health services; on-going family tracing; Cultural activities/recreation; special education services and legal and immigration assistance.
The goal for the refugee foster care program is family reunification.
~ CCS brings around 600 refugees to Utah every year.
~ There are 85 refugee foster children in CCS care.
~ CCS operates the only Refugee Foster Care program in the State of Utah and it is one of only a handful in the US.
~ The refugee foster children are unaccompanied refugee minors or children who have been orphaned or abandoned by war or conflict, have been trafficked, or have entered the United States from South America unaccompanied by a parent or responsible adult.
~ The refugee foster children in Utah come from all over the world, but most are from the Democratic Republic of the Congo (DRC), Somalia, Burma/Myanmar, Honduras, Eritrea or Afghanistan.