Religious Women – the Church's Lifeblood in Poor Areas
Friday, Nov. 15, 2019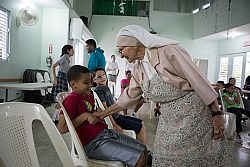 Courtesy photo/Catholic Extension
+ Enlarge
Tim Muldoon, PhD
Catholic Extension
In recent years, the story of women religious in the United States is often told as a story of decline, since the number of sisters today is a fraction of what it had been 50 years ago. The roles that sisters play in many poor areas of the country, though, tell a different story: one of profound imagination and great beauty through lives of service, giving rise to communities of hope and transformation.
Returning from a recent immersion trip with priests to the Diocese of Brownsville, one of the participants observed how amazed he was at the work that religious sisters were doing.
"They do so much of the heavy lifting," he said. On his mind were three locations we had visited, all of which showed the generous, loving face of the Catholic Church to those most in need.
We had met Sister Norma Pimentel, MJ, the woman who began the Humanitarian Respite Center in McAllen, Texas, to offer hospitality to people fleeing violence, poverty, and persecution. The daughter of Mexican immigrants herself, she has spent her life in radical imitation of the poor Christ reaching out to the poor.
We had visited Sr. Zita Telkamp, CDP, who recently celebrated 70 years in ministry. She and other sisters founded and ran La Posada Providencia in San Benito, which for almost 40 years has provided short- and long-term shelter to people seeking asylum. We met people from many parts of the world who had endured terror and uncertainty and who, many for the first time in years, encountered Christlike compassion in the faces of these women.
We traveled to Peñitas, where the ICM Sisters founded Proyecto Desarollo Humano 15 years ago to invite women and later their husbands to grow as individuals and as a community, transforming a poor colonia into a village where dreams take root and grow.
The stories of the work that these sisters carried on so unself-consciously – and so rooted in the soil of the Gospel – are not unique. In all of the 87 dioceses in the United States we support, we have encountered women religious who teach children, catechize adults, offer pastoral and personal counseling, run community development programs, provide health care, and organize parishes.
Sr. Marie-Paule Willem, FMM is a case in point. In her 85 years, she lived through the Nazi occupation in her native Belgium; she escaped the threats of soldiers in Paraguay while ministering to imprisoned farmers; she settled in Texas to minister to a poor community; and now oversees a parish in Las Cruces, N.M., transforming what had been a scattered group of people into a thriving parish community.
The many stories we have witnessed in our U.S.-Latin America Sisters Exchange Program (USLASEP) continue to inspire us. Five years ago, thanks to the Hilton Foundation, we invited some 20 Latin American nuns to come to the United States to minister to poor Hispanic communities and, in the process, to earn degrees at Boston College. That first cohort recently completed their five-year commitment, and left a remarkable legacy in a short time. Sisters Maryud Cortés, Yuliana Rua and Dora Orozco organized a "kitchen ministry" in Kalamazoo, Mich., which feeds the community and raises funds for the parish and their farmworker ministry. Sr. Isabel Donate Vadez and Sr. Irma Lerma Cantor visited migrant farmworker camps in the Diocese of Yakima in Washington. They helped children of migrant workers with their reading skills. Srs. Brenda Hernandez Valdes, Azucena del Carmen Gonzalez Loyo and Rosa Anabeli Arreola Moreno evangelized in unlikely areas like laundromats, RV parks and grocery stores in Bismark, N.D. They quadrupled the local parish's Spanish Mass attendance. Now that these sisters have returned to their home countries to help grow the Church at home, we are excited to welcome our next cohort of sisters who will similarly serve for five years.
I could go on, telling stories about the sister who is a physician and who travels to underserved Appalachian communities, the sister who anchors a mission in the remote Navajo nation, or the sisters who offer a haven for Puerto Rican middle schoolers as an alternative to the street. These stories offer an insight into why so often Pope Francis calls us to pay attention to the peripheries, because those are the places where we often see people who can spontaneously and creatively respond to human need.
Often, I find that obvious metrics, like the total numbers of Sisters in the country, fail to tell the real story of the Church in the United States. What I see in poor parts of the country are stories of women who are remarkable witnesses to a living faith in Christ, whose work transforms lives and offers people hope. It is worth noting that while some of the sisters have ministered for decades, others are young and responding to the most pressing needs of our world today. Their ministries are mustard seeds which will grow thirty-, sixty-, and a hundredfold.
Tim Muldoon, PhD, serves as the director for mission education at Catholic Extension.