Results from science fair
Friday, Feb. 19, 2021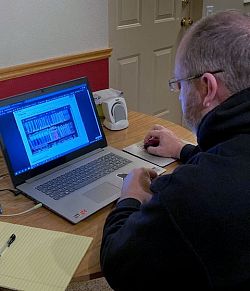 Courtesy photo
+ Enlarge
SALT LAKE CITY — This year for the first time, the Diocesan Science Fair was held virtually. The pandemic made gathering for the event problematic, so on Feb. 6 100 students in grades five through 12 from a dozen Utah Catholic Schools presented their projects online. Judge Memorial and Juan Diego Catholic high schools had senior division entries; with elementary and junior division entries from Blessed Sacrament, St. Vincent de Paul, Kearns-St. Ann, J.E. Cosgriff, St. John the Baptist, Our Lady of Lourdes, St. Olaf, St. Francis Xavier, St. Andrew and St. Marguerite Catholic schools.
The annual science fair is sponsored and organized by the Utah Knights of Columbus. During the this year's virtual event, students presented their projects to a panel of judges during videoconferences. Their T-shirts and awards were delivered to the schools the following week.
This year's top winner was Chase Kramer, a sixth-grader at St. Olaf Catholic School. Entering his first science fair project, he took home first place in his grade level in the Earth and Environmental Science category, the Overall Sixth Grade Award, and the Overall Earth and Environmental Science Award, netting him the Young Scientist Award.
James Anderson, a St. Vincent de Paul student, won the Astronomy award.
"We were very happy and impressed with the projects," said science fair committee chairperson Dr. Christine Celestino. "It has been a difficult year generally and even more so for designing science projects and collecting data. Students were resourceful and came up with great ideas. We are looking forward to the regional fair at the University of Utah in March, where 68 of our students' projects are qualified to compete."
Young Scientist of the Year Award: Chase Kramer, St. Olaf
Astronomy Recognition Award: James Anderson, St. Vincent de Paul
Category Honors
Overall Biology and Microbiology Award: Maya Phillips, Our Lady of Lourdes
Overall Plant Science Award: Quincy Kegel, St. John the Baptist Middle School
Overall Engineering Award: Beau Saber, J.E. Cosgriff Memorial Catholic School
Overall Earth and Environmental Science Award: Chase Kramer, St. Olaf
Overall Behavioral and Social Science Award: Lucy Mckillen, Our Lady of Lourdes
Overall Energy: Chemical and Physical Science Award: Becket Evans, St. John the Baptist
Overall Physics, Astronomy, and Math Award: Sarah Fiore, St. John the Baptist
Overall Chemistry and Biochemistry Award: Zach Johnson, St. Vincent de Paul
Overall Medicine, Health Sciences Biomedical Engineering Award: Belinda Hernandez, Kearns-St. Ann
Special Recognition Awards
Sixth Grade Honorable Mention: Becket Evans, St. John the Baptist
Overall Sixth Grade Award: Chase Kramer, St. Olaf
Seventh Grade Honorable Mention: Jacob Tanner, St. John the Baptist
Overall Seventh Grade Award: Lucy Mckillen, Our Lady of Lourdes
Eighth Grade Honorable Mention: Zach Johnson, St. Vincent de Paul
Overall Eighth Grade Award: Beau Saber, J.E. Cosgriff
Third - First Place Winners
Behavioral and Social Science: 6th grade – 3rd Place: Heidi Jordan, St. Marguerite, 2nd Place: Nikolai Razuvayev, Blessed Sacrament, 1st Place: Grace Mese, Blessed Sacrament; 7th Grade – 3rd Place: Anna Smith, J.E. Cosgriff Memorial, 2nd Place: Isaac Hildebrand, J.E. Cosgriff Memorial, 1st Place: Lucy McKillen, Our Lady of Lourdes; 8th Grade – 3rd Place: Sarah Banecker, Our Lady of Lourdes, 2nd: Place Fatima Ramos, St. Olaf, 1st Place: Oliver Cockle, St. Vincent de Paul
Biology and Microbiology: 6th grade – 1st Place: Violette-Reine Evans, St. John the Baptist; 7th Grade – 1st Place: Maxwell Pacenza, Our Lady of Lourdes; 8th Grade – 1st Place: Maya Phillips, Our Lady of Lourdes
Chemistry Biochemistry: 6th Grade – 3rd Place: Isabel Wilcox, St. Marguerite, 2nd Place: Lydia Martinez, St. Francis Xavier, 1st Place: Izzy Garcia, St. John the Baptist; 7th Grade – 3rd Place: Trey Nicolodemos, St. John the Baptist, 2nd Place: Caitlyn Carlson, St. John the Baptist, 1st Place: Christina Shively, St. Andrew; 8th Grade – 3rd Place: Abby Bowers, St. Vincent de Paul, 2nd Place: Kelsey Cook, J.E. Cosgriff Memorial, 1st Place: Zach Johnson, St. Vincent de Paul
Earth and Environmental Science: 6th Grade – 3rd Place: Boston Parker, St. Andrew, 2nd Place: Laura Caetano, Blessed Sacrament, 1st Place: Chase Kramer, St. Olaf; 7th Grade – 2nd Place: Natasha Swick, St. John the Baptist, 1st Place: Jack Bennett, St. John the Baptist, 8th grade – 3rd Place: Walker Wilde, St. Olaf, 2nd Place: Helena Archibald, St. Vincent de Paul, 1st Place: Nikolas Vargas, St. Andrew
Energy: Chemical and Physical Science: 6th grade – 2nd Place: Jane Whittle, St. Marguerite, 1st Place: Becket Evans, St. John the Baptist; 7th Grade – 3rd Place: Lange Livonius, St. John the Baptist, 2nd Place: Maryann Emefo, St. Marguerite, 1st Place: Sophia Lentz, St. John the Baptist; 8th grade– 1st Place: Rylan Arico, St. Vincent de Paul
Engineering: 6th Grade – 2nd Place: Nolan Jones, St. John, the Baptist, 1st Place: Noah Davis, St. John the Baptist; 7th Grade – 3rd Place: Jackson Ringhofer, St. John the Baptist, 2nd Place Dominic Ruffing, St. Olaf, 1st Place: Jacob Tanner, St. John the Baptist; 8th grade – 3rd Place: Dakota Lara, Kearns-St. Ann, 2nd Place: Mia Giovanniello, J.E. Cosgriff Memorial, 1st Place: Beau Saber, J.E. Cosgriff Memorial
Medicine, Health Science Biomedical Engineering: 6th Grade – 1st Place: Sophie Matthews, St. Olaf ; 7th Grade – 2nd Place: Lucila Urena, St. Andrew, 1st Place: Michael Beierschmitt, St. John the Baptist; 8th grade - 3rd Place: Jacob Whittle, St. Marguerite, 2nd Place: Ana Deboeck, Our Lady of Lourdes, 1st Place: Belinda Hernandez, Kearns- St. Ann
Physics, Astronomy, Math: 6th grade – 3rd Place: Nicholas Manross, Blessed Sacrament, 2nd Place: Tyler Lengerich, St. John the Baptist, 1st Place: Connor Hoisington, Blessed Sacrament; 7th grade – 2nd Place: Tessa Fowler, J.E. Cosgriff Memorial, 1st Place: Sarah Fiore, St. John the Baptist; 8th grade – 3rd Place: Ella Still, J.E. Cosgriff Memorial, 2nd Place: Jake Marland, St. Olaf, 1st Place: Joshua Hale, St. Olaf
Plant Science: 7th Grade – 2nd Place: Tavia Zockle, St. John the Baptist, 1st Place: Quincy Kegel, St. John the Baptist
High School Winners
1st Place: Emilie Etchart, Juan Diego CHS
2nd Place: Aymeric Blaizot, Juan Diego CHS
3rd Place: Thomas Varghese, Juan Diego CHS